Product Summary
The TMS320VC33PGEA120 DSP is a 32-bit, floating-point processor manufactured in 0.18-μm four-level-metal CMOS (TImeline) technology. The TMS320VC33PGEA120 internal busing and special digital-signal-processing instruction set have the speed and flexibility to execute up to 150 million floating-point operations per second (MFLOPS). The TMS320VC33PGEA120 optimizes speed by implementing functions in hardware that other processors implement through software or microcode. This hardware-intensive approach provides performance previously unavailable on a single chip. The TMS320VC33PGEA120 can perform parallel multiply and ALU operations on integer or floating-point data in a single cycle. Each processor also possesses a general-purpose register file, a program cache, dedicated ARAUs, internal dual-access memories, one DMA channel supporting concurrent I/O, and a short machine-cycle time. High performance and ease of use are the results of these features.
Parametrics
TMS320VC33PGEA120 absolute maximum ratings: (1)Supply voltage range, DVDD: -0.3 V to 4 V; (2)Supply voltage range, CVDD: -0.3 V to 2.4 V; (3)Input voltage range, VI: -1 V to 4.6 V; (4)Output voltage range, VO: -0.3 V to 4.6 V; (5)Continuous power dissipation (worst case): 500 mW(for TMS320VC33-150); (6)Operating case temperature range, TC (PGE - commercial): 0℃ to 90℃; (7)TC (PGEA - industrial): - 40℃ to 100℃; (8)Storage temperature range, Tstg: - 55℃ to 150℃.
Features
TMS320VC33PGEA120 features: (1)High-Performance Floating-Point Digital Signal Processor; (2)34K × 32-Bit (1.1-Mbit) On-Chip Words of Dual-Access Static Random-Access Memory (SRAM) Configured in 2 × 16K Plus 2 × 1K Blocks to Improve Internal Performance; (3)x5 Phase-Locked Loop (PLL) Clock Generator; (4)Very Low Power: < 200 mW @ 150 MFLOPS; (5)32-Bit High-Performance CPU; (6)16-/32-Bit Integer and 32-/40-Bit Floating-Point Operations; (7)Four Internally Decoded Page Strobes to Simplify Interface to I/O and Memory Devices; (8)Boot-Program Loader; (9)EDGEMODE Selectable External Interrupts; (10)32-Bit Instruction Word, 24-Bit Addresses; (11)Eight Extended-Precision Registers.
Diagrams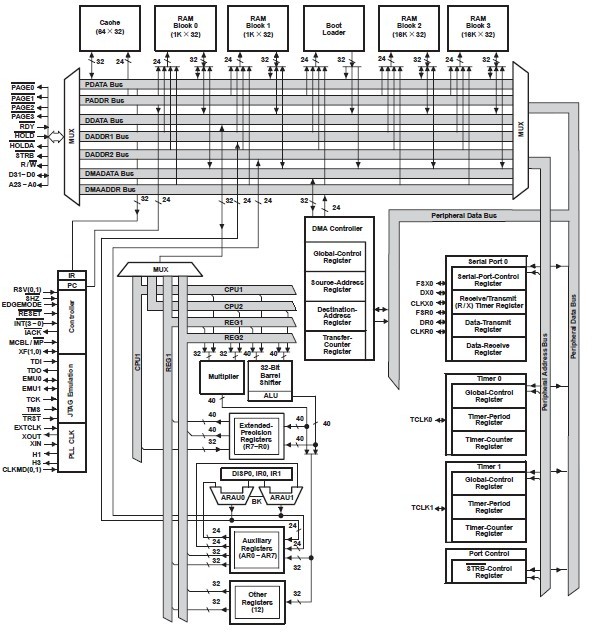 Image
Part No
Mfg
Description
Pricing
(USD)
Quantity

TMS320VC33PGEA120

Texas Instruments

Digital Signal Processors & Controllers (DSP, DSC) Digital Signal Proc

Data Sheet



| | |
| --- | --- |
| 0-1: | $9.98 |
| 1-25: | $9.70 |
| 25-100: | $9.43 |
| 100-250: | $9.23 |

Image
Part No
Mfg
Description
Pricing
(USD)
Quantity

TMS3112

Other



Data Sheet

Negotiable

TMS3121

Other



Data Sheet

Negotiable

TMS320

Other



Data Sheet

Negotiable

TMS32010

Other



Data Sheet

Negotiable

TMS320AV7110

Other



Data Sheet

Negotiable

TMS320BC51PQ100

Texas Instruments

Digital Signal Processors & Controllers (DSP, DSC) TMS320C51PQ - 132QFP - 100MHZ/BOOT CODE

Data Sheet

Negotiable