Product Summary
The DSP56F803BU80E is a 16-bit digital signal controller. The DSP56F803BU80E is a member of the 56800 core-based family of processors. It combines, on a single chip, the processing power of a DSP and the functionality of a microcontroller with a flexible set of peripherals to create an extremely cost-effective solution. Because of its low cost, configuration flexibility, and compact program code, the DSP56F803BU80E is well-suited for many applications. The DSP56F803BU80E includes many peripherals that are especially useful for applications such as motion control, smart appliances, steppers, encoders, tachometers, limit switches, power supply and control, automotive control, engine management, noise suppression, remote utility metering, and industrial control for power, lighting, and automation.
Parametrics
DSP56F803BU80E absolute maximum ratings: (1)Supply voltage VDD: VSS -0.3 VSS + 4.0 V; (2)All other input voltages, excluding Analog inputs VIN: VSS -0.3 VSS + 5.5V V; (3)Voltage difference VDD to VDDA ΔVDD: - 0.3 0.3 V; (4)Voltage difference VSS to VSSA ΔVSS: - 0.3 0.3 V; (5)Analog inputs ANA0-7 and VREF VIN: VSSA -0.3 VDDA+ 0.3 V; (6)Analog inputs EXTAL and XTAL VIN: VSSA -0.3 VSSA+ 3.0 V; (7)Current drain per pin excluding VDD, VSS, PWM outputs, TCS,; (8)VPP, VDDA, VSSA I: 10 mA.
Features
DSP56F803BU80E features: (1)6-channel PWM module; (2)Two 4-channel 12-bit ADCs; (3)Quadrature Decoder; (4)CAN 2.0 B module; (5)Serial Communication Interface (SCI); (6)Serial Peripheral Interface (SPI); (7)Up to two General Purpose Quad Timers; (8)JTAG/OnCETM port for debugging; (9)16 shared GPIO lines; (10)100pin LQFP package.
Diagrams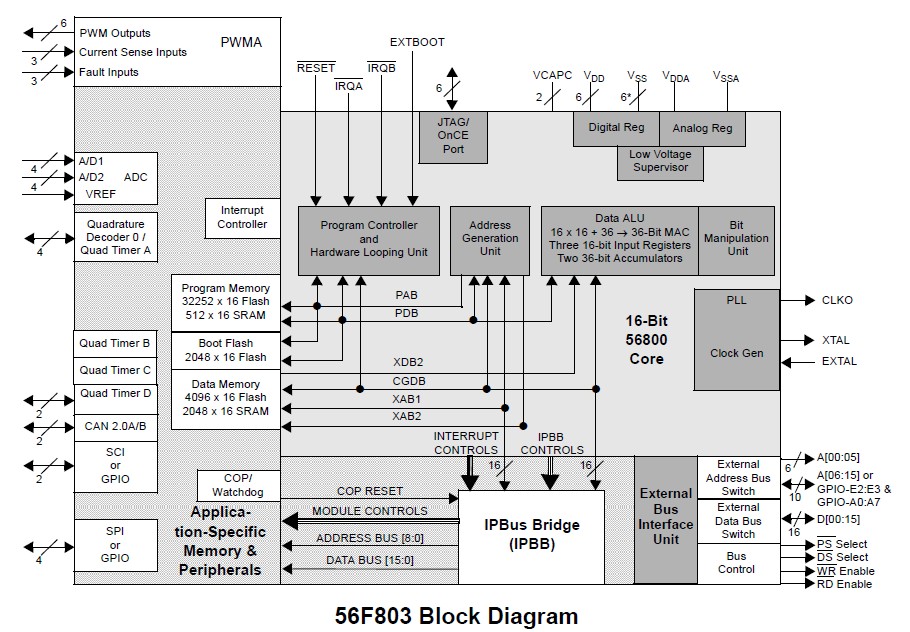 Image
Part No
Mfg
Description
Pricing
(USD)
Quantity

DSP56F803BU80E

Freescale Semiconductor

Digital Signal Processors & Controllers (DSP, DSC) 80Mhz/40 MIPS

Data Sheet



| | |
| --- | --- |
| 0-1: | $9.72 |
| 1-25: | $8.51 |
| 25-50: | $7.55 |
| 50-100: | $6.59 |

Image
Part No
Mfg
Description
Pricing
(USD)
Quantity

DSP56001

Other



Data Sheet

Negotiable

DSP56001A

Other



Data Sheet

Negotiable

DSP56002

Other



Data Sheet

Negotiable

DSP56004

Other



Data Sheet

Negotiable

DSP56005

Other



Data Sheet

Negotiable

DSP56007

Other



Data Sheet

Negotiable