Product Summary
The AD389KD is a high accuracy, adjustment free track-and-hold amplifer. The device is designed for high resolution data acquisition applications. The fast acquisition tiem and low aperture jitter make the AD389KD suitable for use with fast A/D converters to digitize signals up to 40KHz. The device is complete with an internal hold capacitor and it incorporates a compensation network which minimizes the sample to hold charge offset. The typical applications of the AD389KD inlcude sampled data systems, peak hold functions, storbed measurement systems and simultaneous sampling converter systems.
Parametrics
AD389KD absolute maximum ratings: (1)voltage range: ±10V min; (2)overvoltage, no damage: ±15V ,ax; (3)impedance: 3000Ω; (4)analog output voltage: ±10V min; (5)analog outout current: 3mA; (6)analog output short circuit current: 20mA; (7)analog output impedance: 1Ω; (8)aperture time: 30ns; (9)aperture uncertainty: 0.4ns; (10)offset step (pedestal): ±2mV; (11)operating temperature range: 0 to 70℃; (12)storage temeprature range: -55 to 125℃.
Features
AD389KD features: (1)companion to high resolution A/D converters; (2)fast acquisition time: 2.5μs to ±0.003%; (3)low droop rate: 0.1μV/μs; (4)aperture jitter: 400ps; (5)internal hold capacitor; (6)unity gain inverter; (7)low power dissipation: 300mW.
Diagrams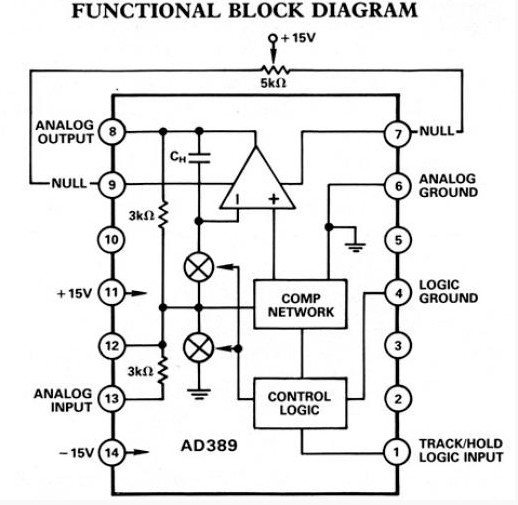 AD3812MB-B51GP

ADDA

Fans & Blowers 38mm 120DC 7.5CFM

Data Sheet



| | |
| --- | --- |
| 0-1: | $10.22 |
| 1-10: | $9.60 |
| 10-25: | $9.12 |
| 25-50: | $8.64 |


AD386

Other



Data Sheet

Negotiable

AD3860

Other



Data Sheet

Negotiable