Product Summary
The AD8362ARUZ is a true rms-responding power detector that has a 65 dB measurement range. It is intended for use in a variety of high frequency communication systems and in instrumentation requiring an accurate response to signal power. The AD8362ARUZ is easy to use, requiring only a single supply of 5 V and a few capacitors. It can operate from arbitrarily low frequencies to over 3.8 GHz and can accept inputs that have rms values from 1 mV to at least 1 V rms, with large crest factors, exceeding the requirements for accurate measurement of CDMA signals. The input signal of AD8362ARUZ is applied to a resistive ladder attenuator that comprises the input stage of a variable gain amplifier (VGA).
Parametrics
AD8362ARUZ absolute maximum ratings: (1)Supply Voltage VPOS: 5.5V; (2)Input Power (Into Input of Device): 15dBm; (3)Equivalent Voltage: 2 V rms; (4)Internal Power Dissipation: 500 mW; (5)θJA: 125℃/W; (6)Maximum Junction Temperature: 125℃; (7)Operating Temperature Range: -40℃ to +85℃; (8)Storage Temperature Range: -65℃ to +150℃; (9)Lead Temperature (Soldering, 60 sec): 300℃.
Features
AD8362ARUZ features: (1)Complete fully calibrated measurement/control system; (2)Accurate rms-to-dc conversion from 50 Hz to 3.8 GHz; (3)Input dynamic range of >65 dB: -52 dBm to +8 dBm in 50 Ω; (4)Waveform and modulation independent, such as GSM/CDMA/TDMA; (5)Linear-in-decibels output, scaled 50 mV/dB; (6)Law conformance error of 0.5 dB; (7)All functions temperature and supply stable; (8)Operates from 4.5 V to 5.5 V at 24 mA; (9)Power-down capability to 1.3 mW.
Diagrams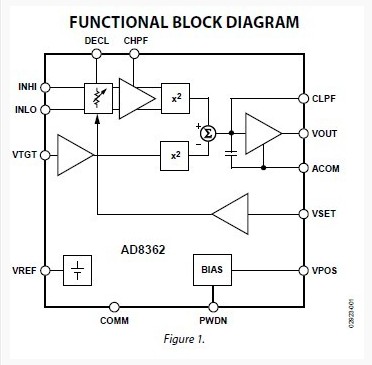 Image
Part No
Mfg
Description
Pricing
(USD)
Quantity

AD8362ARUZ



IC PWR DETECTOR 3.8GHZ 16-TSSOP

Data Sheet



| | |
| --- | --- |
| 0-1: | $7.84 |
| 1-10: | $7.13 |
| 10-100: | $6.06 |
| 100-250: | $5.52 |
| 250-500: | $5.17 |
| 500-1000: | $4.75 |


AD8362ARUZ-REEL7



IC PWR DETECTOR 3.8GHZ 16-TSSOP

Data Sheet



AD8362ARUZ-REEL71

Other



Data Sheet

Negotiable