Product Summary
The AD1862N-J is a monolithic 20-bit digital audio DAC. It provides a 20-bit DAC, 20-bit serial-to-parallel input register and voltage reference. The analog portion of the AD1862N-J is fabricated with bipolar and MOS devices as well as thin-film resistors. The applications of the AD1862N-J are High Performance Compact Disc Players, Digital Audio Amplifiers, Synthesizer Keyboards, Digital Mixing Consoles, High Resolution Signal Processing.
Parametrics
AD1862N-J absolute maximum ratings: (1)VL to DGND:0 to +13.2 V; (2)–VL to DGND:–VS to 0 V; (3)VS to AGND:0 to +13.2 V; (4)–VS to AGND:–13.2 to 0 V; (5)AGND to DGND:–0.3 to +0.3 V; (6)Digital Inputs to DGND:–0.3 to VL; (7)Soldering:+300℃, 10 sec; (8)Storage Temperature:–60℃ to +100℃.
Features
AD1862N-J features: (1)120 dB Signal-to-Noise Ratio; (2)102 dB D-Range Performance; (3)±1 dB Gain Linearity; (4)±1 mA Output Current; (5)16-Pin DIP Package; (6)0.0012% THD + N.
Diagrams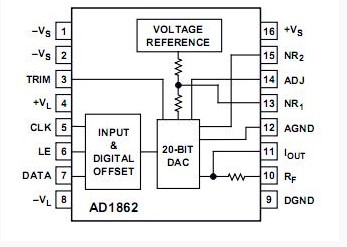 Image
Part No
Mfg
Description
Pricing
(USD)
Quantity

AD1862N-J

Other



Data Sheet

Negotiable
Image
Part No
Mfg
Description
Pricing
(USD)
Quantity

AD1803

Other



Data Sheet

Negotiable

AD1804

Other



Data Sheet

Negotiable

AD180S10KBC

Infineon Technologies

Rectifiers 180A 1000V

Data Sheet



| | |
| --- | --- |
| 0-4: | $408.59 |
| 4-10: | $367.72 |


AD180S12KBF

Infineon Technologies

Rectifiers 180A 1200V

Data Sheet



| | |
| --- | --- |
| 0-4: | $453.56 |
| 4-10: | $408.19 |


AD180S12KCF

Infineon Technologies

Rectifiers 180A 1200V

Data Sheet



| | |
| --- | --- |
| 0-4: | $447.73 |
| 4-10: | $402.94 |


AD180S12KDC

Infineon Technologies

Rectifiers 180A 1200V

Data Sheet



| | |
| --- | --- |
| 0-4: | $447.73 |
| 4-10: | $402.94 |