Product Summary
The AD7705B is a complete analog front end for low frequency measurement applications. The two-/three-channel device can accept low level input signals directly from a transducer and produce a serial digital output. The AD7705B employs a sigmadelta conversion technique to realize up to 16 bits of no missing codes performance. The selected input signal is applied to a proprietary programmable gain front end based around an analog modulator. The modulator output of the AD7705B is processed by an onchip digital filter. The first notch of this digital filter can be programmed via an on-chip control register allowing adjustment of the filter cutoff and output update rate.
Parametrics
AD7705B absolute maximum ratings: (1)VDD to GND: -0.3μV to +7μV; (2)Analog Input Voltage to GND: -0.3 V to VDD + 0.3 V; (3)Reference Input Voltage to GND: -0.3 V to VDD + 0.3 V; (4)Digital Input Voltage to GND: -0.3 V to VDD + 0.3 V; (5)Digital Output Voltage to GND: -0.3 V to VDD + 0.3 V; (6)Operating Temperature Range: 0℃ to +85℃; (7)Storage Temperature Range: -5℃ to +150℃; (8)Junction Temperature: +150℃; (9)Plastic DIP Package, Power Dissipation: 450 mW; (10)qJA Thermal Impedance: 105℃/W; (11)Lead Temperature, (Soldering, 10 sec): +260℃.
Features
AD7705B features: (1)Two Fully Differential Input Channel ADCs; (2)Programmable Gain Front End Gains from 1 to 128; (3)Three-Wire Serial Interface; (4)Ability to Buffer the Analog Input; (5)2.7 V to 3.3 V or 4.75 V to 5.25 V Operation; (6)Power Dissipation 1 mW max @ 3V; (7)Standby Current 8 mA max; (8)16-Lead DIP, 16-Lead SOIC and TSSOP Packages.
Diagrams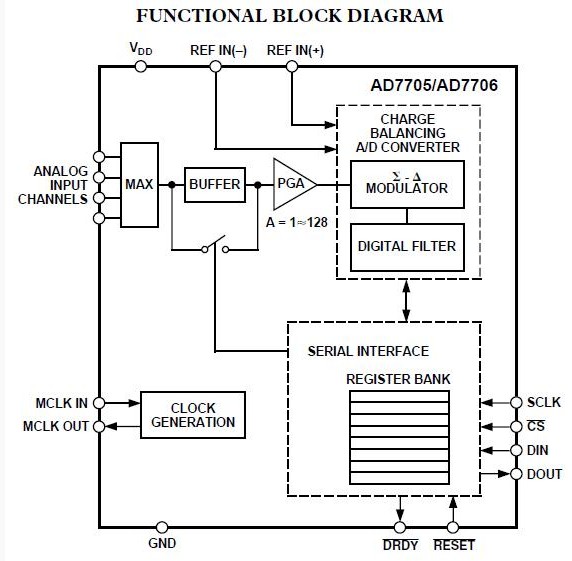 Image
Part No
Mfg
Description
Pricing
(USD)
Quantity

AD7705BNZ



IC ADC 16BIT 2CH 16-DIP

Data Sheet



| | |
| --- | --- |
| 0-1: | $5.94 |
| 1-25: | $4.87 |
| 25-100: | $4.40 |
| 100-250: | $4.04 |
| 250-500: | $3.68 |
| 500-1000: | $3.21 |
| 1000-2500: | $3.17 |


AD7705BR



IC ADC 16BIT 2CH 16-SOIC

Data Sheet



AD7705BR-REEL



IC ADC 16BIT 2CH 16-SOIC T/R

Data Sheet



AD7705BR-REEL7

Analog Devices Inc.

IC ADC 16BIT 2CH 16-SOIC T/R

Data Sheet

Negotiable

AD7705BRZ



IC ADC 16BIT 2CH 16-SOIC

Data Sheet



| | |
| --- | --- |
| 0-1: | $5.77 |
| 1-10: | $5.19 |
| 10-100: | $4.27 |
| 100-250: | $3.92 |
| 250-500: | $3.57 |
| 500-1000: | $3.11 |
| 1000-2500: | $3.07 |


AD7705BRZ-REEL



IC ADC 16BIT 2CHAN 16SOIC

Data Sheet



AD7705BRZ-REEL7



IC ADC 16BIT 2CHAN 16SOIC

Data Sheet



| | |
| --- | --- |
| 0-1: | $5.95 |
| 1-10: | $5.35 |
| 10-25: | $4.87 |
| 25-100: | $4.40 |


AD7705BRUZ-REEL7



IC ADC 16BIT 2CHAN 16TSSOP

Data Sheet