Product Summary
The EP20K400EFC672-2X is first PLD designed with the MultiCore architecture, which combines the strengths of LUT-based and productterm-based devices with an enhanced memory structure. The EP20K400EFC672-2X is configured at system power-up with data stored in an Altera serial configuration device or provided by a system controller.
Parametrics
EP20K400EFC672-2X absolute maximum ratings: (1)VCCINT, Supply voltage With respect to ground: –0.5v min, 3.6 V max; (2)VCCIO: –0.5v min, 4.6 V max; (3)VI, DC input voltage: –2.0v min, 5.75 V max; (4)IOUT, DC output current, per pin: –25mA min, 25 mA max; (5)TSTG, Storage temperature: –65 to150 ℃ at No bias; (6)TAMB, Ambient temperature Under bias: –65 to 135 ℃; (7)TJ, Junction temperature:135 ℃ max at PQFP, RQFP, TQFP, and BGA packages,under bias;150 ℃ max at Ceramic PGA packages, under bias.
Features
EP20K400EFC672-2X features:(1)Industry first programmable logic device (PLD) incorporating system-on-a-programmable-chip (SOPC) integration; (2)High density; (3)Designed for low-power operation; (4)Flexible clock management circuitry with up to four phase-locked loops (PLLs); (5)Advanced interconnect structure; (6)Advanced packaging options; (7)Advanced software support.
Diagrams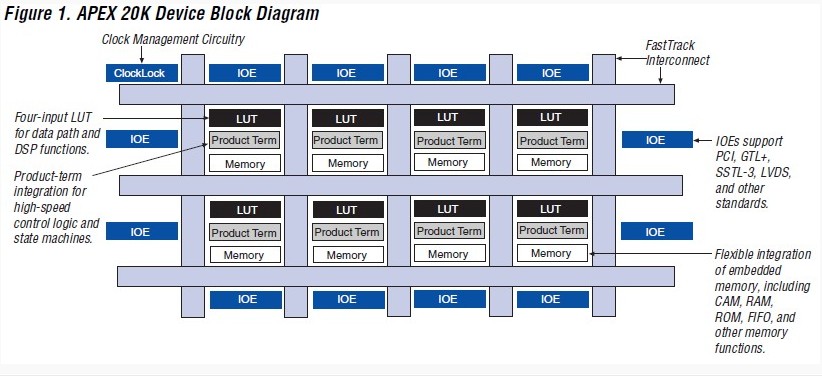 Image
Part No
Mfg
Description
Pricing
(USD)
Quantity

EP20K400EFC672-2X



IC APEX 20KE FPGA 400K 672-FBGA

Data Sheet


Image
Part No
Mfg
Description
Pricing
(USD)
Quantity

EP2001-9R



EURO-CASSETTE 120W 2X 5.1V

Data Sheet



EP201

Other



Data Sheet

Negotiable

EP2012

Hammond Manufacturing

Electrical Enclosure Accessories E PANEL FITS 20X1224

Data Sheet

Negotiable

EP2016

Hammond Manufacturing

Electrical Enclosure Accessories E-PANEL FITS 20 X 16

Data Sheet



| | |
| --- | --- |
| 0-1: | $25.07 |
| 1-2: | $23.60 |
| 2-5: | $22.12 |
| 5-10: | $20.65 |


EP2020

Hammond Manufacturing

Electrical Enclosure Accessories E-PANEL FITS 20 X 20

Data Sheet



| | |
| --- | --- |
| 0-1: | $33.28 |
| 1-2: | $30.62 |
| 2-5: | $28.67 |
| 5-10: | $26.90 |


EP2024

Hammond Manufacturing

Electrical Enclosure Accessories E-PANEL FITS 20 X 24

Data Sheet



| | |
| --- | --- |
| 0-1: | $42.59 |
| 1-2: | $39.19 |
| 2-5: | $36.70 |
| 5-10: | $34.43 |