Product Summary
The SKY77711-11 is a high-efficiency Front-End Module (FEM) for ZigBee and other 2.4 GHz ISM band applications. The small 8 x 8 mm Multi-Chip Module (MCM) contains a 2400-2500 MHz high-efficiency transmit path and a low-noise linear receive path.
Parametrics
SKY77711-11 absolute maximum ratings: (1)supply voltage RX_VCC, TX_VCC: 2.1 to 4 V; (2)control Voltage BIAS1_PASS, BIAS2_PASS, TX_EN, RX_EN, TX_HLB, T_R: 3.6V; (3)Bypass voltage BIAS1_PASS, BIAS2_PASS: 1.9V; (4)RF input power, antenna port, PIN_ANT: 10dBm; (5)RF input power, transmit port, PIN_TX: +8dBm; (6)Case operating temperature, TC: –40 to +85℃; (7)Sorage temperature, TST: –55 to +125℃; (8)Jnction temperature, TJ: +150℃.
Features
SKY77711-11 features: (1)Transmit output power > +20 dBm; (2)Receive NF < 3 dB; (3)High efficiency PA; (4)Programmable transmit power levels; (5)Configurable transmit/receive paths; (6)Internal switching and control circuits; (7)Internal RF match and bias circuits; (8)Single DC supply = 3.0 V; (9)Interfaces seamlessly with Ember EM250 and EM260 ZigBee transceivers; (10)All RF ports are internally DC blocked; (11)Small footprint, MCM (28-pin, 8 x 8 mm) SMT package (MSL3, 260℃ per JEDEC J-STD-020).
Diagrams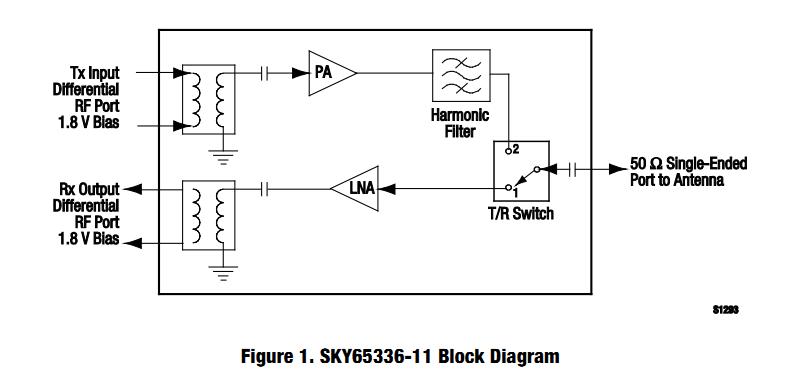 SKY72300-21

Skyworks Solutions, Inc.

Clock Synthesizer / Jitter Cleaner 2.1GHz 100Hz step Freq. Synthesizer

Data Sheet



| | |
| --- | --- |
| 0-1: | $3.32 |
| 1-50: | $3.28 |
| 50-100: | $2.32 |
| 100-500: | $2.27 |
| 500-2500: | $2.23 |


SKY72300-362

Skyworks Solutions, Inc.

Clock Synthesizer / Jitter Cleaner 2.1GHz 100Hz step Freq. Synthesizer

Data Sheet



| | |
| --- | --- |
| 0-1: | $2.48 |
| 1-50: | $2.35 |
| 50-100: | $2.15 |
| 100-500: | $2.05 |


SKY72301-22



IC SYNTHESIZER 1GHZ 28-EPTSSOP

Data Sheet



SKY72302-21

Skyworks Solutions, Inc.

Clock Synthesizer / Jitter Cleaner 6.1GHz 400Hz step Freq. Synthesizer

Data Sheet



| | |
| --- | --- |
| 0-1: | $3.96 |
| 1-50: | $3.57 |
| 50-100: | $2.77 |
| 100-500: | $2.70 |
| 500-2500: | $2.65 |


SKY72310-362



IC SYNTHESIZER 2.1GHZ 24QFN

Data Sheet

Negotiable

SKY72310-362LF



IC SYNTHESIZER 2.1GHZ 24-QFN

Data Sheet



| | |
| --- | --- |
| 0-1: | $1.79 |
| 1-100: | $1.55 |
| 100-500: | $1.48 |
| 500-1000: | $1.37 |