Product Summary
The AD7722AS is a complete low power, 16-bit, sigma-delta ADC. The part operates from a +5 V supply and accepts a differential input voltage range of 0 V to +2.5 V or ±1.25 V centered around a common-mode bias. The AD7722AS provides 16-bit performance for input bandwidths up to 90.625 kHz. The part provides data at an output word rate of 195.3 kHz. The analog input is continuously sampled by an analog modulator eliminating the need for external sample-and-hold circuitry. The modulator output of the AD7722AS is processed by two Finite Impulse Response (FIR) digital filters in series. The on-chip filtering reduces the external antialias requirements to first order, in most cases.
Parametrics
AD7722AS absolute maximum ratings: (1)DVDD to DGND: –0.3 V to 7 V; (2)AVDD, AVDD1 to AGND: –0.3 V to 7 V; (3)AVDD, AVDD1 to DVDD: –1 V to +1 V; (4)AGND, AGND1 to DGND: –0.3 V to +0.3 V; (5)Digital Inputs to DGND: –0.3 V to DVDD + 0.3 V; (6)Digital Outputs to DGND: –0.3 V to DVDD + 0.3 V; (7)VIN(+), VIN(–) to AGND: –0.3 V to AVDD + 0.3 V; (8)REF1 to AGND: –0.3 V to AVDD + 0.3 V; (9)REF2 to AGND: –0.3 V to AVDD + 0.3 V; (10)DGND, AGND1, AGND2: ±0.3 V; (11)Operating Temperature Range: –40 to +85℃; (12)Storage Temperature Range: –65 to +150℃; (13)Junction Temperature: +150℃; (14)θJA Thermal Impedance: 95℃/W; (15)Lead Temperature, Soldering: Vapor Phase (60 sec), +215℃; (16)Infrared (15 sec), +220℃.
Features
AD7722AS features: (1)16-Bit Sigma-Delta ADC; (2)64× Oversampling Ratio; (3)Up to 220 kSPS Output Word Rate; (4)Low-Pass, Linear Phase Digital Filter; (5)Inherently Monotonic; (6)On-Chip 2.5 V Voltage Reference; (7)Single Supply +5 V; (8)High Speed Parallel or Serial Interface.
Diagrams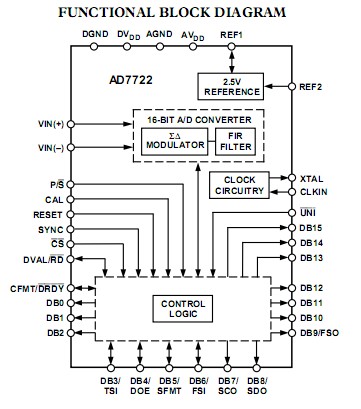 Image
Part No
Mfg
Description
Pricing
(USD)
Quantity

AD7722AS

Analog Devices Inc

IC ADC 16BIT 195KSPS 44-MQFP

Data Sheet

Negotiable

AD7722ASZ



IC ADC 16BIT 195KSPS 44-MQFP

Data Sheet



| | |
| --- | --- |
| 0-1: | $19.02 |
| 1-10: | $17.59 |
| 10-100: | $15.02 |
| 100-250: | $13.79 |
| 250-500: | $13.12 |
| 500-1000: | $12.68 |