Product Summary
The SKY77710-13 is an integrated Interated Front-End Module (FEM) for 802.11b/g WLAN applications. A single supply voltage and a positive supply switch control simplify bias requirements. The SKY77710-13 is manufactured using Skyworks InGaP Heterojunction Bipolar Transistor (HBT) process. The applications of the SKY77710-13 include PC cards, PCMCIA cards and MiniCards/half miniCards.
Parametrics
SKY77710-13 absolute maximum ratings: (1)RF input power, PIN: +20 dBm; (2)Supply voltage, VCC: 4 V; (3)Supply current: 600 mA; (4)Operating temperature, TA:–40 +85℃; (5)Storage temperature, TSTG:–65 +85℃; (6)Thermal resistance, θJC: 55℃/W.
Features
SKY77710-13 features: (1)2.4 to 2.5 GHz operation; (2)27 dB small signal gain; (3)802.11g linear power @ 3% EVM, +16 dBm; (4)802.11b mask compliant power, +20 dBm; (5)Temperature-compensated directional RF power detector; (6)GaAs FET four-control transfer switch; (7)MCM (24-pin, 7 × 8 mm) Pb-free package (MSL3, 240℃ per JEDEC J-STD-020) package.
Diagrams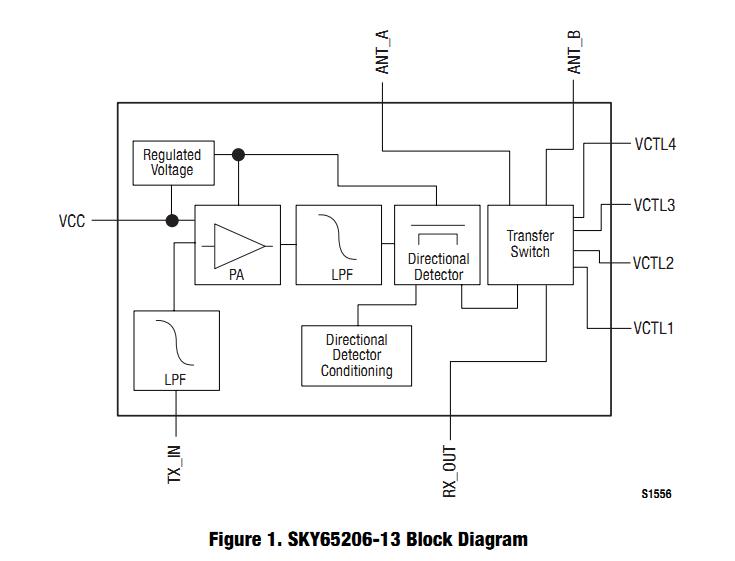 SKY72300-21

Skyworks Solutions, Inc.

Clock Synthesizer / Jitter Cleaner 2.1GHz 100Hz step Freq. Synthesizer

Data Sheet



| | |
| --- | --- |
| 0-1: | $3.32 |
| 1-50: | $3.28 |
| 50-100: | $2.32 |
| 100-500: | $2.27 |
| 500-2500: | $2.23 |


SKY72300-362

Skyworks Solutions, Inc.

Clock Synthesizer / Jitter Cleaner 2.1GHz 100Hz step Freq. Synthesizer

Data Sheet



| | |
| --- | --- |
| 0-1: | $2.48 |
| 1-50: | $2.35 |
| 50-100: | $2.15 |
| 100-500: | $2.05 |


SKY72301-22



IC SYNTHESIZER 1GHZ 28-EPTSSOP

Data Sheet



SKY72302-21

Skyworks Solutions, Inc.

Clock Synthesizer / Jitter Cleaner 6.1GHz 400Hz step Freq. Synthesizer

Data Sheet



| | |
| --- | --- |
| 0-1: | $3.96 |
| 1-50: | $3.57 |
| 50-100: | $2.77 |
| 100-500: | $2.70 |
| 500-2500: | $2.65 |


SKY72310-362



IC SYNTHESIZER 2.1GHZ 24QFN

Data Sheet

Negotiable

SKY72310-362LF



IC SYNTHESIZER 2.1GHZ 24-QFN

Data Sheet



| | |
| --- | --- |
| 0-1: | $1.79 |
| 1-100: | $1.55 |
| 100-500: | $1.48 |
| 500-1000: | $1.37 |