Product Summary
The MT48LC2M32B2 is a high-speed CMOS, dynamic random-access memory containing 67,108,864-bits. The MT48LC2M32B2 is internally configured as a quad-bank DRAM with a synchronous interface (all signals are registered on the positive edge of the clock signal, CLK). The MT48LC2M32B2 is designed to operate in 3.3V, low-power memory systems. An auto refresh mode is provided, along with a power-saving, power-down mode. All inputs and outputs are LVTTL-compatible.
Parametrics
MT48LC2M32B2 absolute maximum ratings: (1)Voltage on VDD, VDDQ Supply Relative to VSS: -1V to +4.6V; (2)Voltage on Inputs, NC or I/O Pins Relative to VSS: -1V to +4.6V; (3)Operating Temperature, TA: 0℃ to +70℃; (4)Extended Temperature: -40℃ to +85℃; (5)Storage Temperature (plastic): -55℃ to +150℃; (6)Power Dissipation: 1W.
Features
MT48LC2M32B2 features: (1)PC100 functionality; (2)Fully synchronous; all signals registered on positive edge of system clock; (3)Internal pipelined operation; column address can be changed every clock cycle; (4)Internal banks for hiding row access/precharge; (5)Programmable burst lengths: 1, 2, 4, 8, or full page; (6)Auto Precharge, includes CONCURRENT AUTO PRECHARGE, and Auto Refresh Modes; (7)Self Refresh Mode; (8)64ms, 4,096-cycle refresh (15.6μs/row); (9)LVTTL-compatible inputs and outputs; (10)Single +3.3V ±0.3V power supply; (11)Supports CAS latency of 1, 2, and 3.
Diagrams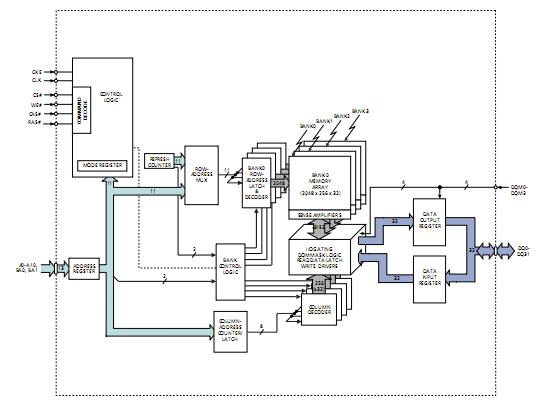 Image
Part No
Mfg
Description
Pricing
(USD)
Quantity

MT48LC2M32B2

Other



Data Sheet

Negotiable

MT48LC2M32B2B5-7 IT:G



IC SDRAM 64MBIT 143MHZ 90VFBGA

Data Sheet



MT48LC2M32B2B5-7 IT:G TR



IC SDRAM 64MBIT 143MHZ 90VFBGA

Data Sheet



| | |
| --- | --- |
| 0-1: | $4.82 |
| 1-10: | $4.43 |
| 10-25: | $4.34 |
| 25-50: | $4.33 |
| 50-100: | $3.88 |
| 100-250: | $3.76 |
| 250-500: | $3.58 |


MT48LC2M32B2B5-7:G



IC SDRAM 64MBIT 143MHZ 90VFBGA

Data Sheet



MT48LC2M32B2P-5:G TR



IC SDRAM 64MBIT 200MHZ 86TSOP

Data Sheet



MT48LC2M32B2P-5:G



IC SDRAM 64MBIT 200MHZ 86TSOP

Data Sheet



MT48LC2M32B2P-55:G TR



IC SDRAM 64MBIT 5.5NS 86TSOP

Data Sheet



MT48LC2M32B2P-55:G



IC SDRAM 64MBIT 5.5NS 86TSOP

Data Sheet