Product Summary
The AD7655ASTZ is a low cost four channel 16-bit, charge redistribution SAR, Analog-to-Digital Converter which operates from a single 5 Volt power supply. The AD7655ASTZ contains two low noise, wide bandwidth track/hold amplifiers which allow simultaneous sampling, a high-speed 1 MSPS 16-Bit sampling ADC, an internal conversion clock, error correction circuits, and both serial and parallel system interface ports. Each track/hold has a multiplexer to provide a four-channel ADC.
Parametrics
AD7655ASTZ absolute maximum ratings: (1)Analog Inputs/Outputs: IN+1, IN-1 to AGND: VEE - 0.3 V to VCC + 0.3 V; REF, REFBUFIN, TEMP, REFGND to AGND: AVDD + 0.3 V to AGND - 0.3 V; (2)Ground Voltage Differences AGND, DGND, OGND: ±0.3 V ; (3)Supply Voltages: AVDD, DVDD, OVDD: -0.3 V to +7 V; AVDD to DVDD, AVDD to OVDD: ±7 V; DVDD to OVDD: ±7 V; VCC to AGND, DGND: –0.3 V to +16.5 V; VEE to GND: +0.3 V to -16.5 V; (4)Digital Inputs: -0.3 V to OVDD + 0 .3 V; (5)PDREF, PDBUF: ±20 mA; (6)Internal Power Dissipation 3: 700 mW; (7)Internal Power Dissipation 4: 2.5 W; (8)Junction Temperature: 125℃; (9)Storage Temperature Range: -65 to +125℃.
Features
AD7655ASTZ features: (1)Multiple pins/software programmable input ranges: 5 V, 10 V, ±5 V, ±10 V; (2)Pins or serial SPI-compatible input ranges/mode selection; (3)INL: ±0.75 LSB typical, ±1.5 LSB maximum (±23 ppm of FSR) ; (4)16-bit resolution with no missing codes; (5)iCMOS process technology; (6)5 V internal reference: typical drift 3 ppm/℃; TEMP output ; (7)No pipeline delay (SAR architecture); (8)Parallel (16- or 8-bit bus) and serial 5 V/3.3 V interface; (9)Power dissipation: 190 mW @ 750 kSPS; (10)Pb-free, 48-lead LQFP and LFCSP (7 mm × 7 mm).
Diagrams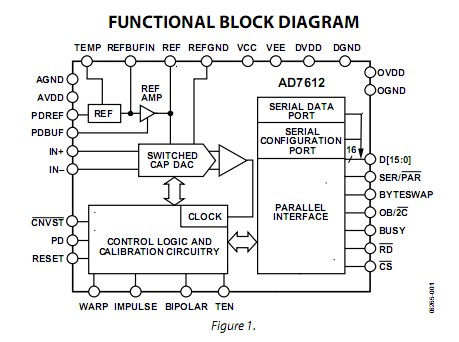 Image
Part No
Mfg
Description
Pricing
(USD)
Quantity

AD7655ASTZ



IC ADC 16BIT 1MSPS QUAD 48-LQFP

Data Sheet



| | |
| --- | --- |
| 0-1: | $11.36 |
| 1-10: | $10.32 |
| 10-100: | $8.78 |
| 100-250: | $8.00 |
| 250-500: | $7.49 |
| 500-1000: | $6.88 |


AD7655ASTZRL



IC ADC 16BIT 4CHAN 48LQFP

Data Sheet