Product Summary
TheDCP020505P is a 2W, isolated, unregulated DC/DC converter. Requiring a minimum of external components and including on-chip device protection, the DCP020505P provides extra features such as output disable and synchronization of switching frequencies.
Parametrics
DCP020505P absolute maximum ratings: (1)Input Voltage: 5V input models 7 V; 12V input models 15 V; 15V input models 18 V; 24V input models 29 V; (2)Storage temperature range: –60 to +125 ℃.
Features
DCP020505P features: (1)Up To 89% Efficiency; (2)Thermal Protection; (3)Device-to-Device Synchronization; (4)SO-28 Power Density of 106W/in3 (6.5W/cm3 ); (5)EN55022 Class B EMC Performance; (6)UL1950 Recognized Component; (7)JEDEC 14-Pin and SO-28 Packages.
Diagrams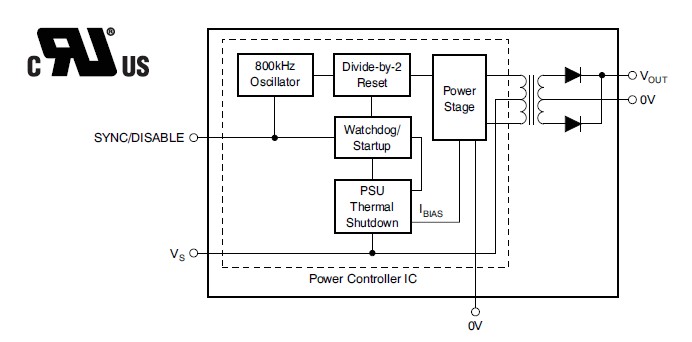 Image
Part No
Mfg
Description
Pricing
(USD)
Quantity

DCP020505P

Texas Instruments

DC/DC Converters Mini 2W Iso Unreg DC/DC Converter

Data Sheet



| | |
| --- | --- |
| 0-1: | $6.82 |
| 1-10: | $6.21 |
| 10-25: | $5.74 |
| 25-50: | $5.54 |

Image
Part No
Mfg
Description
Pricing
(USD)
Quantity

DCP0105

Other



Data Sheet

Negotiable

DCP010505BP

Texas Instruments

DC/DC Converters Mini 1W Iso Unreg DC/DC Converter

Data Sheet



| | |
| --- | --- |
| 0-1: | $7.22 |
| 1-10: | $6.49 |
| 10-25: | $5.78 |
| 25-50: | $5.45 |


DCP010505BP-U

Texas Instruments

DC/DC Converters Mini 1W Iso Unreg DC/DC Converter

Data Sheet



| | |
| --- | --- |
| 0-1: | $7.22 |
| 1-10: | $6.49 |
| 10-25: | $5.78 |
| 25-50: | $5.45 |


DCP010505BP-U/700

Texas Instruments

DC/DC Converters Mini 1W Iso Unreg DC/DC Converter

Data Sheet



| | |
| --- | --- |
| 0-1: | $7.22 |
| 1-10: | $6.49 |
| 10-25: | $5.78 |
| 25-50: | $5.45 |


DCP010505BP-U/7E4

Texas Instruments

DC/DC Converters Mini 1W Iso Unreg DC/DC Converter

Data Sheet



| | |
| --- | --- |
| 0-540: | $3.75 |
| 540-700: | $3.75 |
| 700-750: | $3.68 |
| 750-1000: | $3.61 |


DCP010505BP-UE4

Texas Instruments

DC/DC Converters Mini 1W Iso Unreg DC/DC Converter

Data Sheet



| | |
| --- | --- |
| 0-1: | $7.22 |
| 1-10: | $6.49 |
| 10-25: | $5.78 |
| 25-50: | $5.45 |