Product Summary
The DAC8420FS is a quad, 12-bit voltage-output DAC with serial digital interface, in a 16-pin package. Utilizing BiCMOS technology, this monolithic device features unusually high circuit density and low power consumption. The simple, easy-to-use serial digital input and fully buffered analog voltage outputs require no external components to achieve specified performance.
Parametrics
DAC8420FS absolute maximum ratings: (1)VDD to GND: –0.3 V, +18.0 V; (2)VSS to GND: +0.3 V, –18.0 V; (3)VSS to VDD: –0.3 V, +36.0 V; (4)VSS to VVREFLO: –0.3 V, VSS – 2.0 V; (5)VVREFHI to VVREFLO: +2.0 V, VDD – VSS; (6)VVREFHI to VDD: +2.0 V, +33.0 V; (7)IVREFHI, IVREFLO: 10 mA; (8)Digital Input Voltage to GND: –0.3 V, VDD + 0.3 V; (9)Output Short Circuit Duration: Indefinite; (10)Operating Temperature Range: –40℃ to +85℃; (11)Dice Junction Temperature: +150℃; (12)Storage Temperature: –65℃ to +150℃; (13)Power Dissipation: 1000 mW; (14)Lead Temperature (Soldering, 60 sec): +300℃.
Features
DAC8420FS features: (1)Guaranteed Monotonic Over Temperature; (2)Excellent Matching Between DACs; (3)Unipolar or Bipolar Operation; (4)Buffered Voltage Outputs; (5)High Speed Serial Digital Interface; (6)Reset to Zero- or Center-Scale; (7)Wide Supply Range, +5 V-Only to 615 V; (8)Low Power Consumption (35 mW max); (9)Available in 16-Pin DIP and SOL Packages.
Diagrams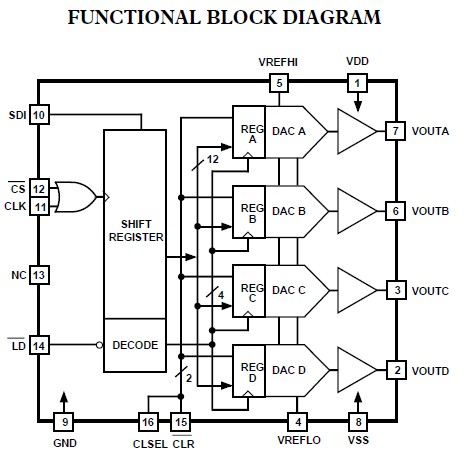 Image
Part No
Mfg
Description
Pricing
(USD)
Quantity

DAC8420FS



IC DAC 12BIT QUAD SRL-OUT 16SOIC

Data Sheet



DAC8420FS-REEL



IC DAC 12BIT QUAD SRL LP 16-SOIC

Data Sheet



DAC8420FSZ



IC DAC 12BIT QUAD SRL-OUT 16SOIC

Data Sheet



| | |
| --- | --- |
| 0-1: | $26.35 |
| 1-10: | $24.63 |
| 10-100: | $21.36 |
| 100-250: | $19.94 |
| 250-500: | $18.99 |


DAC8420FSZ-REEL



IC DAC 12BIT QUAD SRL LP 16SOIC

Data Sheet