Product Summary
The DAC712U is a complete 16-bit resolution D/A converter with 16 bits of monotonicity over temperature. The DAC712U has a precision +10V temperature compensated voltage reference, ±10V output amplifier and 16-bit port bus interface. The digital interface of the DAC712U is fast, 60ns minimum write pulse width, is double-buffered and has a CLEAR function that resets the analog output to bipolar zero. GAIN and OFFSET adjustment inputs of the DAC712U are arranged so that they can be easily trimmed by external D/A converters as well as by potentiometers.
Parametrics
DAC712U absolute maximum ratings: (1)+VCC to COMMON: 0V, +17V; (2)–VCC to COMMON: 0V, –17V; (3)+VCC to –VCC: 34V; (4)Digital Inputs to COMMON: –1V to +VCC –0.7V; (5)External Voltage Applied to BPO and Range Resistors: ±VCC; (6)VREF OUT: Indefinite Short to COMMON; (7)VOUT: Indefinite Short to COMMON; (8)Power Dissipation: 750mW; (9)Storage Temperature: –60℃ to +150℃; (10)Lead Temperature (soldering, 10s): +300℃.
Features
DAC712U features: (1)High-speed 16-bit paralledoublebuffered interface; (2)Voltage output: ±10V; (3)13-, 14-, and 15-bit linearity grades; (4)16-bit monotonic over temperature (L grade); (5)Power dissipation: 600mW max; (6)Gain and offset adjust: Convenient for Auto-CaD/A Converters; (7)28-lead dip and soic packages.
Diagrams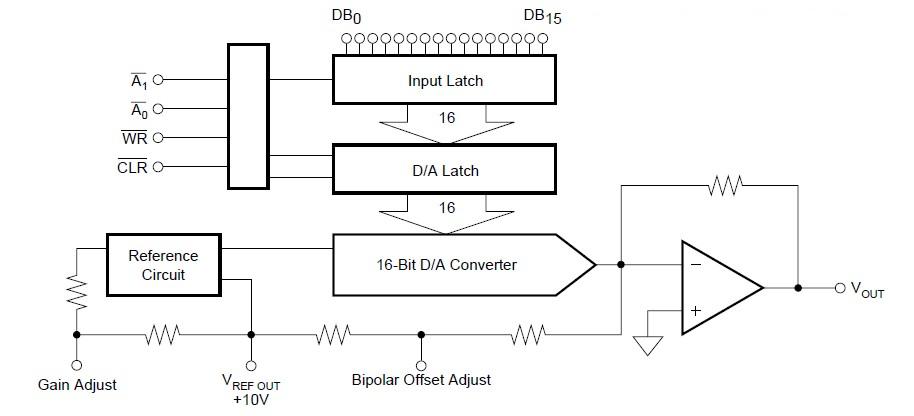 Image
Part No
Mfg
Description
Pricing
(USD)
Quantity

DAC712UB

Texas Instruments

DAC (D/A Converters) 16-Bit Digital-to- Converter

Data Sheet



| | |
| --- | --- |
| 0-1: | $16.22 |
| 1-10: | $15.26 |
| 10-25: | $14.30 |
| 25-50: | $14.03 |


DAC712UBG4

Texas Instruments

DAC (D/A Converters) 16B DAC

Data Sheet



| | |
| --- | --- |
| 0-1: | $15.47 |
| 1-10: | $14.56 |
| 10-25: | $13.64 |
| 25-50: | $13.38 |


DAC712UG4

Texas Instruments

DAC (D/A Converters) 16-Bit Digital-to- Converter

Data Sheet



| | |
| --- | --- |
| 0-1: | $13.31 |
| 1-10: | $12.53 |
| 10-25: | $11.74 |
| 25-50: | $11.51 |


DAC712UL

Texas Instruments

DAC (D/A Converters) 16-Bit Digital-to- Converter

Data Sheet



| | |
| --- | --- |
| 0-1: | $19.16 |
| 1-10: | $18.03 |
| 10-25: | $16.90 |
| 25-50: | $16.57 |


DAC712ULG4

Texas Instruments

DAC (D/A Converters) 16-Bit Digital-to- Converter

Data Sheet



| | |
| --- | --- |
| 0-1: | $18.27 |
| 1-10: | $17.19 |
| 10-25: | $16.11 |
| 25-50: | $15.80 |


DAC712UKG4

Texas Instruments

DAC (D/A Converters) 16-Bit Digital-to- Converter

Data Sheet



| | |
| --- | --- |
| 0-1: | $14.28 |
| 1-10: | $13.43 |
| 10-25: | $12.59 |
| 25-50: | $12.35 |


DAC712UK

Texas Instruments

DAC (D/A Converters) 16-Bit Digital-to- Converter

Data Sheet



| | |
| --- | --- |
| 0-1: | $14.96 |
| 1-10: | $14.08 |
| 10-25: | $13.19 |
| 25-50: | $12.94 |


DAC712U

Texas Instruments

DAC (D/A Converters) 16-Bit Digital-to- Converter

Data Sheet



| | |
| --- | --- |
| 0-1: | $13.99 |
| 1-10: | $13.16 |
| 10-25: | $12.33 |
| 25-50: | $12.09 |