Product Summary
The DAC0631CCDis a triple 6-bit video DAC with color palette. The DAC0631CCD is monolithic triple 6 bit vidio digital to analog converter with on chip 256 x 18 bit color palettes and is intended for grahics applications. The color palette makes possible the display of 256 colors through the internal 6 bit video DACs. The DAC0631CCD is capable of driving 75Ω or 37.5Ω loads to normal video levels at pixel at pixel rates of 50MHz.
Parametrics
DAC0631CCD absolute maximum ratings: (1)Positive supply voltage: GND 0.3 to 7V; (2)Voltage at logic inputs: GND 0.5 to V+ +0.5V; (3)Voltage at analog pins: GND 0.5 to V+ +0.5V; (4)Analog output current: 45mA; (5)Reference current: 15mA; (6)DC digital output current: 25mA; (7)Power dissipation: 1.0W.
Features
DAC0631CCD features: (1)Pixel rates of 50MHzz; (2)256 x 18 bit color palette; (3)256K possible colors; (4)Color palette read back; (5)Three internal 6 bit DACs; (6)Directly drives 75Ω video cable; (7)RGB analog output; (8)Composite blank; (9)Single +5Vsupply.
Diagrams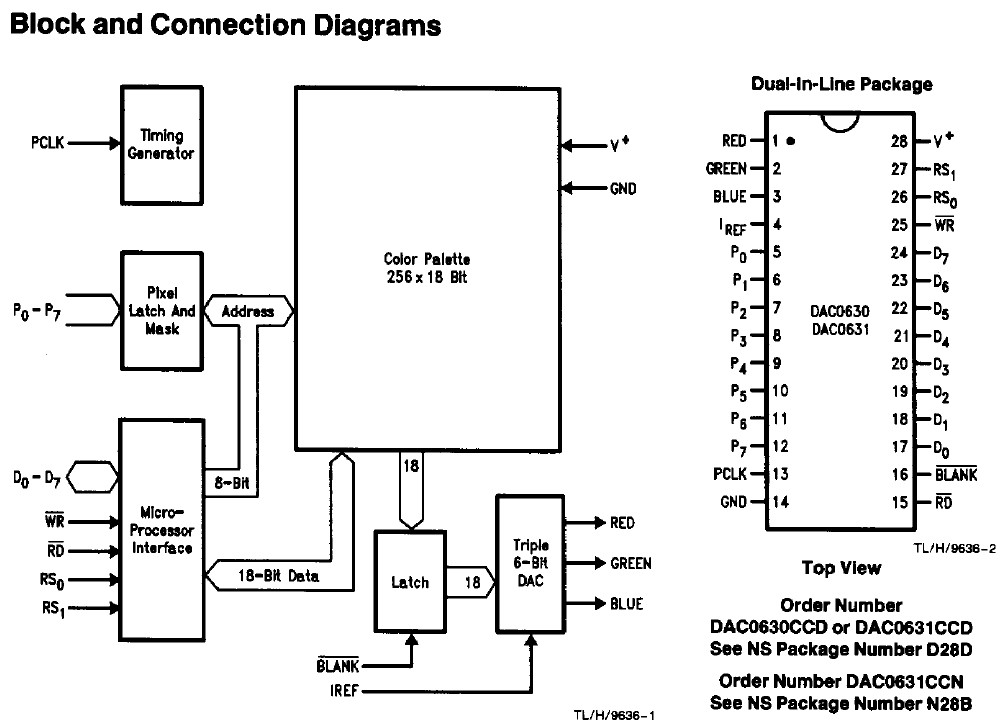 DAC035-12-02-00-00

Laird Technologies / Thermal Solutions

Thermoelectric Assemblies 31W 4.8A 54degC

Data Sheet



| | |
| --- | --- |
| 0-1: | $229.72 |
| 1-10: | $197.92 |


DAC060-24-02-00-00

Laird Technologies / Thermal Solutions

Thermoelectric Assemblies 58W 4.6A 48degC

Data Sheet



| | |
| --- | --- |
| 0-1: | $305.33 |
| 1-10: | $267.41 |


DAC08

Other



Data Sheet

Negotiable

DAC0800

Other



Data Sheet

Negotiable

DAC0800LCM

National Semiconductor (TI)

DAC (D/A Converters)

Data Sheet



| | |
| --- | --- |
| 0-816: | $0.47 |
| 816-1008: | $0.33 |
| 1008-2544: | $0.31 |
| 2544-5040: | $0.30 |


DAC0800LCM/NOPB

National Semiconductor (TI)

DAC (D/A Converters) 8-BIT D/A C

Data Sheet



| | |
| --- | --- |
| 0-1: | $0.78 |
| 1-25: | $0.62 |
| 25-100: | $0.55 |
| 100-250: | $0.48 |