Product Summary
The A3952SLBTR is the full-bridge PWM motor driver, which is designed for bidirectional pulse-width modulated current control of inductive loads. Internal circuit protection of the A3952SLBTR includes thermal shutdown with hysteresis, transient suppression diodes, and crossovercurrent protection. Special power-up sequencing is not required. With the ENABLE input held low, the PHASE input controls load current polarity by selecting the appropriate source and sink driver pair. The MODE input determines whether the PWM current-control circuitry operates in a slow current-decay mode (only the selected sink driver switching) or in a fast current-decay mode (selected source and sink switching). The A3952SLBTR is supplied in a choice of four power packages.
Parametrics
A3952SLBTR absolute maximum ratings: (1)Load Supply Voltage: 50 V; (2)Output Current (tw ≤ 20 μs): ±3.5 A; (Continuous): ±2.0 A; (3)Logic Supply Voltage: 7.0 V; (4)Logic Input Voltage Range: -0.3 V to VCC + 0.3 V; (5)Sense Voltage: 1.5 V; (6)Reference Voltage: 15 V; (7)Package Power Dissipation: See Graph; (8)Operating Temperature Range: –20 to +85℃; (9)Junction Temperature: +150℃; (10)Storage Temperature Range: –55 to +150℃.
Features
A3952SLBTR features: (1)±2 A Continuous Output Current Rating; (2)50 V Output Voltage Rating; (3)Internal PWM Current Control; (4)Fast and Slow Current-Decay Modes; (5)Sleep (Low Current Consumption) Mode; (6)Internal Transient Suppression Diodes; (7)Under-Voltage Lockout; (8)Internal Thermal Shutdown Circuitry; (9)Crossover-Current Protection.
Diagrams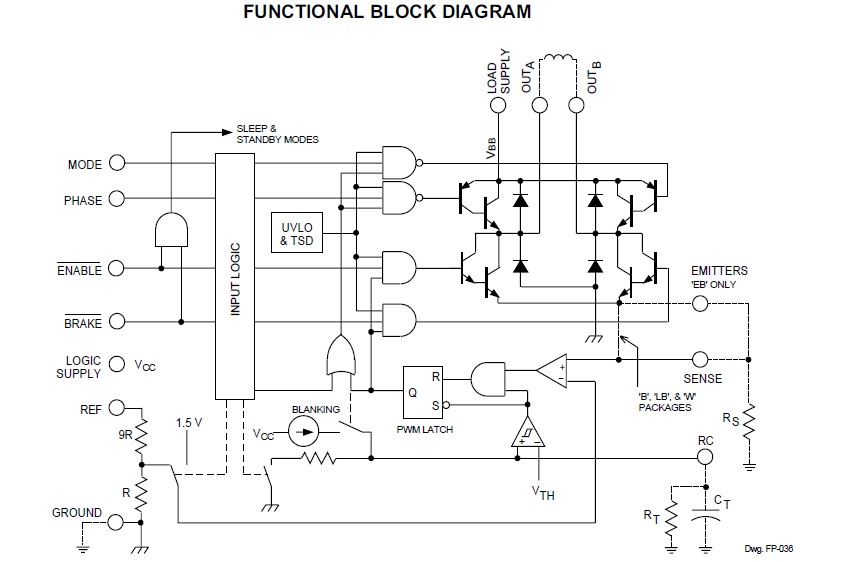 A3950

Other



Data Sheet

Negotiable

A3950SEUTR-T



IC MOTOR DVR FULL BRIDGE 16-QFN

Data Sheet



| | |
| --- | --- |
| 0-1: | $1.85 |
| 1-10: | $1.66 |
| 10-50: | $1.49 |
| 50-100: | $1.35 |
| 100-250: | $1.23 |
| 250-500: | $1.10 |


A3950SLP-T



IC MOTOR DRIVER PWM FULL 16-TSSO

Data Sheet



A3950SLPTR-T



IC MOTOR DVR FULL BRIDGE 16TSSOP

Data Sheet



| | |
| --- | --- |
| 0-1: | $2.23 |
| 1-10: | $2.00 |
| 10-50: | $1.80 |
| 50-100: | $1.63 |
| 100-250: | $1.48 |
| 250-500: | $1.32 |
| 500-1000: | $1.11 |
| 1000-2500: | $1.06 |


A3953

Other



Data Sheet

Negotiable

A3953SB



IC MOTOR DRIVER PWM FULL 16-DIP

Data Sheet

Negotiable