Product Summary
The CS4340-KSZ is a 24-Bit, 96 kHz stereo DAC for audio. The CS4340-KSZ is a complete stereo digital-to-analog system including digital interpolation, fourth-order delta-sigma digital to-analog conversion, digital de-emphasis and switched capacitor analog filtering. The advantages of this architecture CS4340-KSZ include: ideal differential linearity, no distortion mechanisms due to resistor matching errors, no linearity drift over time and temperature and a high tolerance to clock jitter.
Parametrics
CS4340-KSZ absolute maximum ratings: (1)DC Power Supply VA: -0.3 6.0 V; (2)Input Current (Note 1) Iin: ±10 mA; (3)Digital Input Voltage VIND: -0.3 VA+0.4 V; (4)Ambient Operating Temperature (power applied) TA: -55 125 ℃; (5)Storage Temperature Tstg: -65 150 ℃.
Features
CS4340-KSZ features: (1)101 dB Dynamic Range; (2)-91 dB THD+N; (3)+3.0 V or +5.0 V Power Supply; (4)Low Clock Jitter Sensitivity; (5)Filtered Line-level Outputs; (6)On-chip Digital De-emphasis for 32, 44.1 and 48 kHz; (7)33 mW with 3V Supply.
Diagrams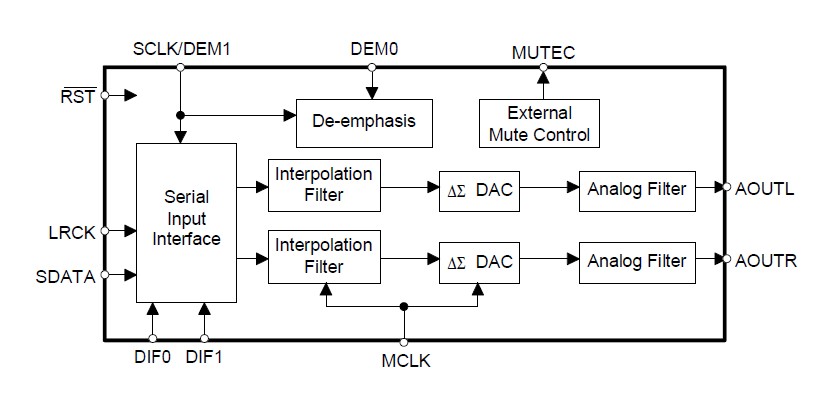 Image
Part No
Mfg
Description
Pricing
(USD)
Quantity

CS4340-KSZ

Cirrus Logic

Audio D/A Converter ICs IC 24Bit 96kHz 101dB Stereo DAC

Data Sheet



CS4340-KSZR

Cirrus Logic

Audio D/A Converter ICs IC 24Bit 96kHz 101dB Stereo DAC

Data Sheet