Product Summary
The CS4294-JQ is an AC 97 compatible Audio Codec designed for PC multimedia systems. Using the industry leading CrystalClear. delta-sigma and mixed signal technology, the CS4294-JQ is ideal for PC 98-compliant desktop, notebook, and entertainment PCs, where high-quality audio features are required. The CS4294-JQ offers four channels of D/A and A/D conversion along with analog mixing and stereo enhancement processing. For multichannel audio systems, the CS4294-JQ can provide four audio channels. The CS4294-JQ provides an enhanced digital docking mode for portable applications by providing a dedicated ADC capture path from the analog input mixer.
Parametrics
CS4294-JQ absolute maximum ratings: (1)Total Power Dissipation (Supplies, Inputs, Outputs): 750 mW; (2)Input Current per Pin (Except Supply Pins): -10 to 10 mA; (3)Output Current per Pin (Except Supply Pins): -15 to 15 mA; (4)Analog Input voltage: -0.3 to AVdd + 0.3 V; (5)Digital Input voltage: -0.3 to DVdd + 0.3 V; (6)Ambient Temperature (Power Applied): -55 to 110 ℃; (7)Storage Temperature: -65 to 150 ℃.
Features
CS4294-JQ features: (1)AC 97 2.0 compatible; (2)20-bit quad output and 18-bit dual stereo input codec with fixed 48 kHz sampling rate; (3)Dedicated ADC for enhanced digital docking; (4)Three analog line-level stereo inputs for connection from LINE IN, CD, and AUX; (5)High quality pseudo-differential CD input; (6)Dual stereo line level output with independent 6-bit volume control; (7)6 General Purpose I/O pins; (8)Meets or exceeds Microsofts PC 98 and PC 99 audio performance requirements; (9)CrystalClear?Stereo Enhancement.
Diagrams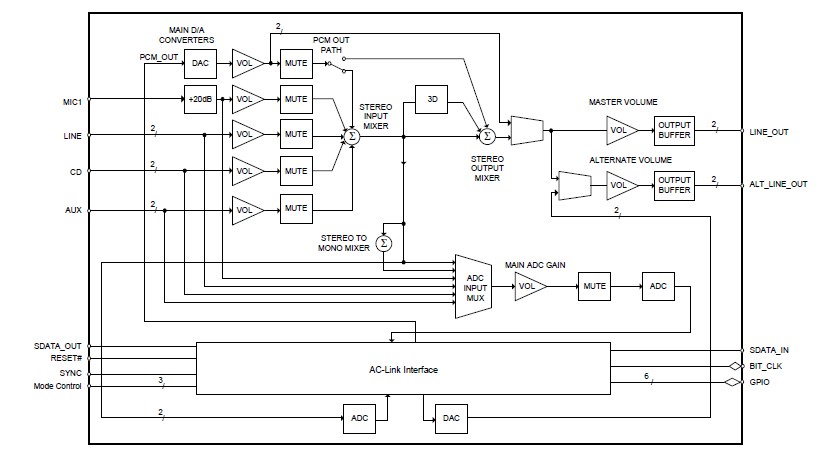 CS4201

Other



Data Sheet

Negotiable

CS4202

Other



Data Sheet

Negotiable

CS4202-JQ

Cirrus Logic

Audio CODECs IC AC'97 CODEC w/Headphone Amp

Data Sheet

Negotiable

CS4202-JQZ

Cirrus Logic

Audio CODECs IC AC'97 w/Headphone Amp

Data Sheet



| | |
| --- | --- |
| 0-1: | $2.95 |
| 1-25: | $2.78 |
| 25-50: | $2.75 |
| 50-100: | $2.67 |


CS4202-JQZR

Cirrus Logic

Audio CODECs IC AC'97 w/Headphone Amplifier

Data Sheet



CS4205

Other



Data Sheet

Negotiable