Product Summary
The CMX654D4 is a transmit modulator. The CMX654D4 is a low power integrated circuit, designed for the transmission of asynchronous 1200bits/sec data in accordance with ITU, V23 and ETSI specifications. The CMX654D4 incorporates an optional Tx data retiming function. This CMX654D4 may be operated so that only the mark or space tone is produced.
Parametrics
CMX654D4 absolute maximum ratings: (1)Total Allowable Power Dissipation at TAMB = 25℃: 800 mW; (2)Derating above 25℃ 13 mW/℃ above: 25℃; (3)Storage Temperature: -55 to 125 ℃; (4)Operating Temperature: -40 to 85 ℃; (5)Supply (VDD - VSS): -0.3 to 7.0 V; (6)Voltage on any pin to VSS -0.3 to VDD + 0.3 V; (7)Current into or out of: VDD: -30 to 30 mA; VSS: -30 to 30 mA; (8)Any other pin: -20 to 20 mA.
Features
CMX654D4 features: (1)1200bits/sec, V.23 Transmit Modulator; (2)3.0V to 5.5V Supply: 1mA typical at 3V; (3)Zero Power Mode: 1μA typical; (4)1200bits/sec TData Retiming; (5)3.58MHz Xtal/Clock Rate; (6)Meets ITU and ETSI Specifications.
Diagrams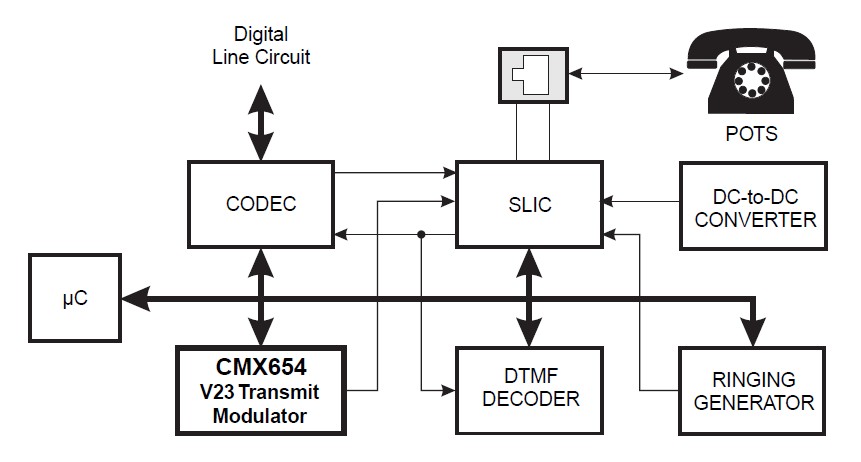 CMX602A

Other



Data Sheet

Negotiable

CMX602B

Other



Data Sheet

Negotiable

CMX605

Other



Data Sheet

Negotiable

CMX608

Other



Data Sheet

Negotiable

CMX60D10

Crydom

Solid State Relays PCB SIP SSR, 60Vdc 10A, 3-10Vdc In

Data Sheet



| | |
| --- | --- |
| 0-1: | $21.38 |
| 1-10: | $20.38 |
| 10-25: | $20.08 |
| 25-50: | $19.44 |


CMX60D20

Crydom

Solid State Relays PCB SIP SSR, 60Vdc 20A, 3-10Vdc In

Data Sheet



| | |
| --- | --- |
| 0-1: | $34.21 |
| 1-10: | $33.59 |
| 10-25: | $32.82 |
| 25-50: | $32.05 |