Product Summary
The C8051F132 is a mixed signal ISP flash MCU family. The C8051F132 is fully integrated mixed-signal System-on-a-Chip MCUs with 64 digital I/O pins (100-pin TQFP package) or 32 digital I/O pins.
Parametrics
C8051F132 absolute maximum ratings: (1)Ambient temperature under bias: -55 125 ℃; (2)Storage Temperature: -65 150 ℃; (3)Voltage on any Pin (except VDD and Port I/O) with; (4)respect to DGND: -0.3 VDD + 0.3V; (5)Voltage on any Port I/O Pin or /RST with respect to DGND: -0.3 5.8 V; (6)Voltage on VDD with respect to DGND: -0.3 4.2 V; (7)Maximum Total current through VDD, AV+, DGND, and AGND: 800 mA; (8)Maximum output current sunk by any Port pin: 100 mA.
Features
C8051F132 features: (1)Programmable throughout up to 100ksps; (2)Up to 8 external inputs: Programmable as single ended or differential; (3)Programmable amplifier gain: 16, 8, 4, 2, 1, 0.5; (4)Data dependent widowed interrupt generator; (5)Built in temperature sensor.
Diagrams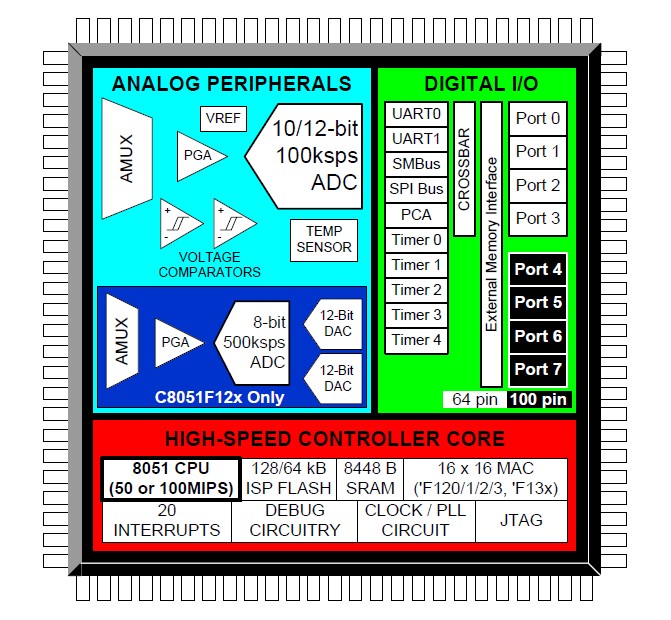 Image
Part No
Mfg
Description
Pricing
(USD)
Quantity

C8051F132

Silicon Labs

8-bit Microcontrollers (MCU) 128kB 100MIPS 8448B RAM

Data Sheet

Negotiable

C8051F132-GQ

Silicon Labs

8-bit Microcontrollers (MCU) 100MIPS 64KB 10ADC 100P MCU

Data Sheet



| | |
| --- | --- |
| 0-1: | $6.46 |
| 1-25: | $6.22 |
| 25-100: | $5.98 |
| 100-1000: | $5.56 |


C8051F132-GQR

Silicon Labs

8-bit Microcontrollers (MCU) 100MIPS 64KB 10ADC Tape and Reel

Data Sheet



| | |
| --- | --- |
| 0-250: | $6.45 |
| 250-500: | $6.26 |
| 500-1000: | $6.07 |


C8051F132R

Silicon Labs

8-bit Microcontrollers (MCU) 128kB 100MIPS 8448B RAM

Data Sheet

Negotiable