Product Summary
The BLF368 is a VHF push-pull power MOS transistor. The BLF368 dual push-pull silicon N-channel enhancement mode vertical D-MOS transistor is designed for broadcast transmitter applications in the VHF frequency range. The transistor BLF368 is encapsulated in a 4-lead SOT262A1 balanced flange package, with two ceramic caps. The mounting flange provides the common source connection for the transistors.
Parametrics
BLF368 absolute maximum ratings: (1)VDS drain-source voltage: 65 V; (2)VGS gate-source voltage: ±20 V; (3)ID drain current (DC): 25 A; (4)Ptot total power dissipation Tmb ≤ 25 ℃ total device; both sections equally loaded: 500 W; (5)Tstg storage temperature -65 +150 ℃; (6)Tj junction temperature: 200 ℃.
Features
BLF368 features: (1)High power gain; (2)Easy power control; (3)Good thermal stability; (4)Gold metallization ensures excellent reliability.
Diagrams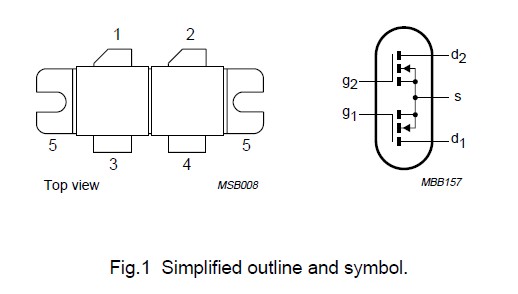 Image
Part No
Mfg
Description
Pricing
(USD)
Quantity

BLF368

NXP Semiconductors

Transistors RF MOSFET Power BULK TNS-RFUH

Data Sheet

Negotiable

BLF368,112

NXP Semiconductors

Transistors RF MOSFET Power BULK TNS-RFUH

Data Sheet