Product Summary
The AD590JH is a 2-terminal integrated circuit temperature transducer that produces an output current proportional to absolute temperature. For supply voltages between 4 V and 30 V the device acts as a high-impedance, constant current regulator passing 1 μA/K. Laser trimming of the thin-film resistors of the chip is used to calibrate the device to 298.2 μA output at 298.2 K (25℃). The AD590JH should be used in any temperature-sensing application below 150℃ in which conventional electrical temperature sensors are currently employed.
Parametrics
AD590JH absolute maximum ratings: (1)Forward Voltage ( E+ or E–): 44 V; (2)Reverse Voltage (E+ to E–): -20 V; (3)Breakdown Voltage (Case E+ or E–): ±200 V; (4)Rated Performance Temperature Range: -55℃ to +150℃; (5)Storage Temperature Range: -65℃ to +155℃; (6)Lead Temperature (Soldering, 10 sec): 300℃.
Features
AD590JH features: (1)Linear current output: 1 μA/K; (2)Wide temperature range: .55℃ to +150℃; (3)Probe compatible ceramic sensor package; (4)2-terminal device: voltage in/current out; (5)Laser trimmed to ±0.5℃ calibration accuracy (AD590M); (6)Excellent linearity: ±0.3℃ over full range (AD590M); (7)Wide power supply range: 4 V to 30 V; (8)Sensor isolation from case; (9)Low cost.
Diagrams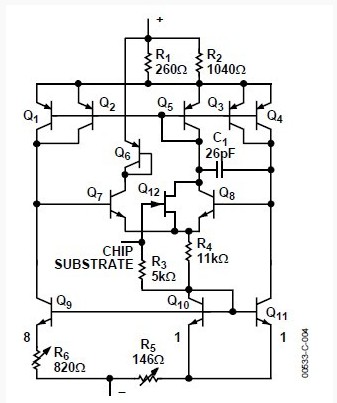 Image
Part No
Mfg
Description
Pricing
(USD)
Quantity

AD590JH



IC TEMP TRANSDUCER 2-TERM TO52-3

Data Sheet



| | |
| --- | --- |
| 0-1: | $5.72 |
| 1-10: | $5.15 |
| 10-25: | $4.69 |
| 25-100: | $4.24 |
| 100-250: | $3.89 |
| 250-500: | $3.55 |
| 500-1000: | $3.09 |
| 1000-2500: | $3.05 |

Image
Part No
Mfg
Description
Pricing
(USD)
Quantity

AD590

Other



Data Sheet

Negotiable

AD590IH

Other



Data Sheet

Negotiable

AD590JF



IC TEMP TRANSDUCER 2-TERM 2-CQFP

Data Sheet



| | |
| --- | --- |
| 0-1: | $11.12 |
| 1-10: | $10.29 |
| 10-100: | $8.79 |
| 100-250: | $8.06 |
| 250-500: | $7.68 |
| 500-1000: | $7.42 |


AD590JH



IC TEMP TRANSDUCER 2-TERM TO52-3

Data Sheet



| | |
| --- | --- |
| 0-1: | $5.72 |
| 1-10: | $5.15 |
| 10-25: | $4.69 |
| 25-100: | $4.24 |
| 100-250: | $3.89 |
| 250-500: | $3.55 |
| 500-1000: | $3.09 |
| 1000-2500: | $3.05 |


AD590JR



IC TEMP TRANSDUCER 2-TERM 8-SOIC

Data Sheet



AD590JR-REEL

Analog Devices Inc.

IC TEMP TRANSDUCER 2-TERM 8-SOIC

Data Sheet

Negotiable