Product Summary
The AD1858JRS is the complete single-chip stereo digital audio playback component. It comprises an advanced digital interpolation filter, a revolutionary linearity-compensated multibit sigma-delta modulator with dither, a jitter-tolerant DAC, switched capacitor and continuous time analog filters and analog output drive circuitry. Other features include digital de-emphasis processing and mute. The AD1858JRS supports continuously variable sample rates with essentially linear phase response.
Parametrics
AD1858JRS absolute maximum ratings: (1)DVDD to DGND: –0.3 to 6 V; (2)AVDD to AGND: –0.3 to 6 V; (3)Digital Inputs: DGND – 0.3 to DVDD + 0.3 V; (4)Analog Outputs: AGND – 0.3 to AVDD + 0.3 V; (5)AGND to DGND: –0.3 to 0.3 V; (6)Reference Voltage: Indefinite Short Circuit to Ground; (7)Soldering: +300℃, 10 sec.
Features
AD1858JRS features: (1)Low Cost, High Performance Stereo DACs; (2)128 Times Oversampling Interpolation Filter; (3)Multibit Modulator with Triangular PDF Dither; (4)Discrete Time and Continuous Time Analog Reconstruction Filters; (5)Extremely Low Out-of-Band Energy; (6)Buffered Outputs with 2 kΩ Output Load Drive; (7)94 dB Dynamic Range, –90 dB THD+N Performance; (8)Digital De-emphasis and Mute; (9)±0.1℃ Maximum Phase Linearity Deviation; (10)Continuously Variable Sample Rate Support; (11)Power-Down Mode; (12)Accepts 24-Bit Word; (13)16-Bit Right-Justified and DSP Serial Port Modes Offered on AD1858; (14)Single +5 V Supply; (15)20-Pin SSOP Package.
Diagrams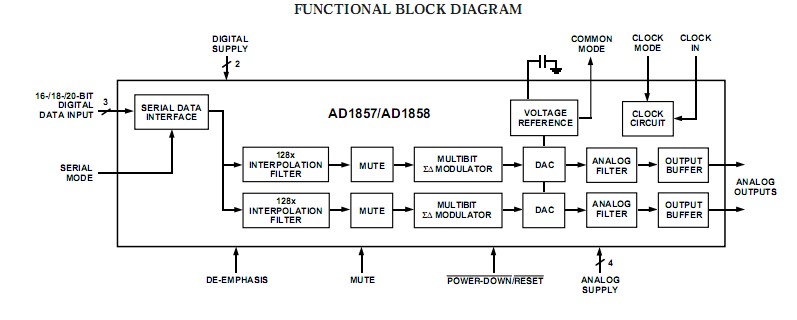 Image
Part No
Mfg
Description
Pricing
(USD)
Quantity

AD1858JRSRL

Analog Devices Inc

IC DAC STEREO SNGL-SUP 5V 20SSOP

Data Sheet



AD1858JRS

Analog Devices Inc

IC DAC STEREO SNGL-SUP 5V 20SSOP

Data Sheet

Negotiable