Product Summary
The S29GL032N90TFI040 is a 3.0-Volt single-power Flash memory manufactured using 110 nm MirrorBit technology. The device is a 64-Mb device organized as 4,194,304 words or 8,388,608 bytes. Depending on the model number, the S29GL032N90TFI040 has 16-bit wide data bus only, or a 16-bit wide data bus that can also function as an 8-bit wide data bus by using the BYTE# input. The S29GL032N90TFI040 can be programmed either in the host system or in standard EPROM programmers.
Parametrics
S29GL032N90TFI040 absolute maximum ratings: (1)Storage Temperature, Plastic Packages: –65 to +150℃; (2)Ambient Temperature with Power Applied: –65 to +125℃; (3)Voltage with Respect to Ground, VCC: –0.5 V to +4.0 V; (4)A9, OE#, ACC and RESET#: –0.5 V to +12.5 V; (5)All other pins: –0.5 V to VCC+0.5 V; (6)Output Short Circuit Current: 200 mA.
Features
S29GL032N90TFI040 features: (1)Single power supply operation; (2)Manufactured on 110 nm MirrorBit process technology; (3)Secured Silicon Sector region; (4)Flexible sector architecture; (5)Enhanced VersatileI/O? Control; (6)Compatibility with JEDEC standards; (7)100,000 erase cycles typical per sector; (8)20-year data retention typical.
Diagrams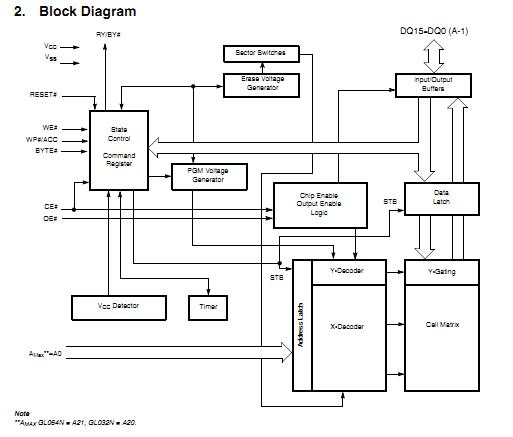 Image
Part No
Mfg
Description
Pricing
(USD)
Quantity

S29GL032N90TFI040

Spansion

Flash 32MB 2.7-3.6V 90ns BTM SECTOR PBF

Data Sheet



| | |
| --- | --- |
| 0-1: | $0.82 |
| 1-25: | $0.77 |
| 25-100: | $0.75 |
| 100-500: | $0.71 |

Image
Part No
Mfg
Description
Pricing
(USD)
Quantity

S29GL016A

Other



Data Sheet

Negotiable

S29GL01GP

Other



Data Sheet

Negotiable

S29GL01GP11FAIR10

Spansion

Flash IC 1GIG 3.0V FLSHMEM

Data Sheet



| | |
| --- | --- |
| 0-180: | $10.04 |
| 180-360: | $9.90 |
| 360-540: | $8.92 |


S29GL01GP11FAIR20

Spansion

Flash 1GB 3.0-3.6V 110ns

Data Sheet



| | |
| --- | --- |
| 0-180: | $10.04 |
| 180-360: | $9.90 |
| 360-540: | $8.92 |


S29GL01GP11FFCR10

Spansion

Flash 1GB 3.0-3.6V 110ns PBF

Data Sheet



| | |
| --- | --- |
| 0-180: | $9.91 |
| 180-360: | $9.77 |
| 360-540: | $8.80 |


S29GL01GP11FFCR20

Spansion

Flash 1GB 3.0-3.6V 110ns PBF

Data Sheet



| | |
| --- | --- |
| 0-180: | $9.91 |
| 180-360: | $9.77 |
| 360-540: | $8.80 |