Product Summary
The FW82801BA is a highly integrated multifunctional communications I/O controller hub that provides the interface to the PCI bus and integrates many of the functions needed in communications applications. This document provides a detailed description of the FW82801BA thermal, electrical and mechanical specifications, including signals, pinout, packaging, electrical characteristics, and testability.
Parametrics
FW82801BA absolute maximum ratings: (1)Case Temperature under Bias: 0 to +109℃; (2)Storage Temperature: -55 to +150℃; (3)Voltage on Any 3.3 V Pin with Respect to Ground: -0.5 to Vcc+0.3V; (4)Voltage on Any 5 V Tolerant Pin with Respect to Ground (VREF=5 V): -0.5 to VREF + 0.3 V; (5)1.8 V Supply Voltage with Respect to Vss: -0.5 to +2.7V; (6)3.3 V Supply Voltage with Respect to Vss: -0.5 to +4.6 V; (7)5.0 V Supply Voltage (Vref) with Respect to Vss: -0.5 to +5.5 V; (8)Maximum Power Dissipation: 2.0 W.
Features
FW82801BA features: (1)Low-Pincount (LPC) interface; (2)Firmware Hub (FWH) interface: Supports 8-Mbyte memory size; (3)Integrated IDE controller supports Ultra100 DMA, Ultra66 and Ultra33 DMA mode transfers; (4)Two cascaded 8237 DMA controllers; (5)Integrated 82C54-compatible timers; (6)Real-time clock with 256-byte batterybacked CMOS RAM; (7)System Management Bus (SMBus): Compatible with most two-wire; (8)components that are also I2C compatible; Slave interface allows external microcontroller to access system resources.
Diagrams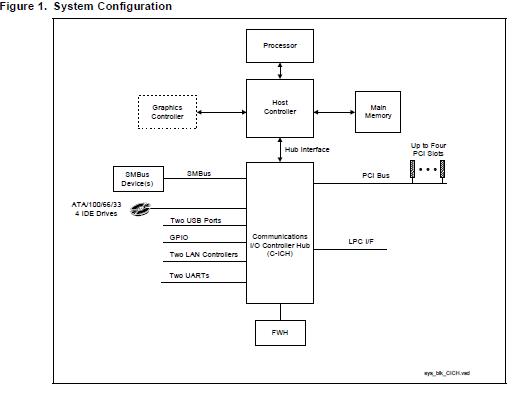 Image
Part No
Mfg
Description
Pricing
(USD)
Quantity

FW82801BA

Other



Data Sheet

Negotiable
Image
Part No
Mfg
Description
Pricing
(USD)
Quantity

FW82439HXSU115



IC 82439HX SYS CTRL MHXC 324BGA

Data Sheet



| | |
| --- | --- |
| 0-1: | $10.88 |
| 1-10: | $10.61 |
| 10-25: | $9.79 |
| 25-100: | $8.97 |


FW82439TX

Other



Data Sheet

Negotiable

FW82439TXSL28T



IC 82439TX SYS CTRL MTXC 324BGA

Data Sheet

Negotiable

FW82443BXSL2VH



IC 82443BX SYS CTRLR 492-PBGA

Data Sheet

Negotiable

FW82546GB

Intel

IC CTRLR ETHRNT 2-PORT 364BGA

Data Sheet



FW82801AA SL3Z2

Other



Data Sheet

Negotiable