Product Summary
The DS2405P+ is an Addressable Switch. It is an open drain N-channel transistor that can be turned on or off by matching the 64-bit factory-lasered registration number within each part. The DS2405P+ consists of an 8-bit family code, a unique 48-bit serial number, and an 8-bit cyclic redundancy check. Communication with the DS2405P+ follows the standard Dallas Semiconductor 1-Wire protocol and can be accomplished with a single port pin of a microcontroller. Multiple DS2405P+ devices can reside on a common 1-Wire bus creating a MicroLAN. The network controller circuitry is embedded within the chip including a search algorithm to determine the identity of each DS2405P+ on the network. The open drain output (PIO pin) for each DS2405P+ on the MicroLan can be independently toggled on or off whether there is one or many devices sharing the same 1-Wire bus. The logic level of the PIO pin for each DS2405P+ on the MicroLan can also be individually sensed and reported to the bus master.
Parametrics
DS2405P+ absolute maximum ratings: (1)Voltage on any Pin Relative to Ground: -0.5V to +7.0V; (2)Operating Temperature Range: -40 to +85℃; (3)Storage Temperature Range: -55 to +125℃.
Features
DS2405P+ features: (1)Open-drain PIO pin is controlled by matching 64-bit, laser-engraved registration number associated with each device; (2)Logic level of open drain output can be determined over 1-Wire; (3)bus for closed-loop control; (4)PIO pin sink capability is greater than 4mA at 0.4V; (5)Multiple DS2405s can be identified on a common 1-Wire bus and be turned on or off independent of other devices on the bus; (6)Unique, factory-lasered and tested 64-bit registration number (8-bit family code +48-bit serial number +8-bit CRC tester) assures absolute alike; (7)Built-in multidrop controller ensures compatibility with other MicroLAN products.
Diagrams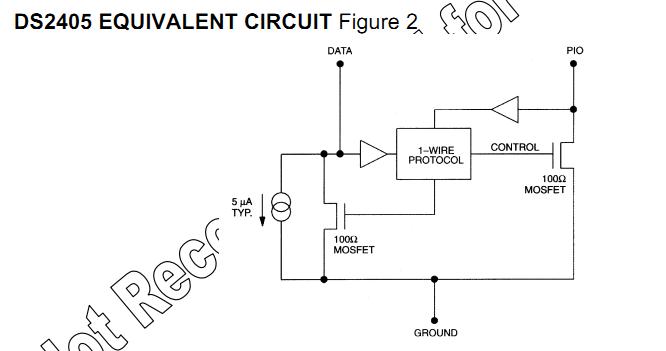 Image
Part No
Mfg
Description
Pricing
(USD)
Quantity

DS2405P+

Maxim Integrated Products

Interface - Specialized

Data Sheet

Negotiable

DS2405P+T&R

Maxim Integrated Products

Interface - Specialized

Data Sheet

Negotiable