Product Summary
The DS1227S Kickstarter is a unique CMOS circuit which combines power conversion and microenergy management functions for battery operated systems. Using its integral DC-DC converter, the DS1227S supplies +5V on demand from either a 3 or 6 volt battery input. The primary +5V output, typically tied to the microcontroller VCC pin, is kickstarted on in response to any one of several possible momentary, external signal transitions. Two auxiliary +5V power supply outputs of the DS1227S can then be independently enabled or disabled under software control.

Parametrics
DS1227S absolute maximum ratings: (1)Input Voltage on any Pin Relative to Ground: -0.3 to 7.0V; (2)VDCI Peak Input Current: 450 mA; (3)Power Dissipation Plastic DIP (derate 7.41 mW/℃ above +50℃): - 555 mW; (4)Small Outline (derate 12.5 mW/℃ above +50℃): - 937 mW; (5)Operating Temperature: –40℃ to +85℃; (6)Storage Temperature: -55℃ to +125℃; (7)Lead Soldering Temperature: 260℃ for 10 seconds.
Features
DS1227S features: (1)Shuts down microcontroller power under software control when operation complete; (2)Provides 3 auxiliary power outputs for independent powering of system functions; (3)Allows design of power on demandsystems; (4)Insures maximum life of main power source; (5)Ideally suited for DS5000-based systems; (6)Available in 20-pin DIP or SOIC packages; (7)Operating temperature range of -40℃ to +85℃.
Diagrams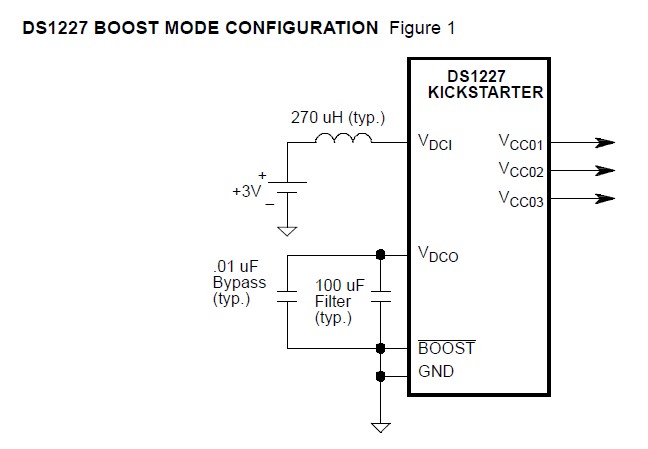 DS12

Apem

DIP Switches / SIP Switches 12POS SPST 0.05A 24V

Data Sheet



| | |
| --- | --- |
| 0-1: | $1.39 |
| 1-10: | $1.24 |
| 10-25: | $1.15 |
| 25-50: | $1.03 |


DS1200



IC SRAM 1KBIT 4MHZ 10DIP

Data Sheet

Negotiable

DS1200-3



POWER SUPPLY AC/DC 12V 1200W

Data Sheet



| | |
| --- | --- |
| 0-1: | $232.27 |
| 1-10: | $228.12 |
| 10-50: | $220.65 |


DS1200-3-002

Emerson / Astec Power

Linear and Switching Power Supplies 12V Out 1200W 1Ux2Ux11" w/5V Sby

Data Sheet



| | |
| --- | --- |
| 0-7: | $284.41 |
| 7-10: | $273.34 |
| 10-25: | $260.71 |


DS1200DC-3

Emerson / Astec Power

Linear and Switching Power Supplies 48V In 12VOut 1200W 1Ux2Ux11"

Data Sheet



| | |
| --- | --- |
| 0-7: | $370.47 |
| 7-10: | $356.03 |


DS1200HE-3



POWER SUPPLY 12VOUT 1200W

Data Sheet



| | |
| --- | --- |
| 0-1: | $239.90 |
| 1-10: | $235.62 |
| 10-50: | $227.91 |