Product Summary
The DAC7615EB is a quad, serial input, 12-bit, voltage output digital-to-analog converter (DAC) with guaranteed 12-bit monotonic performance over the –40℃ to +85℃ temperature range. An asynchronous reset clears all registers to either mid-scale (800H) or zeroscale (000H), selectable via the RESETSEL pin. The individual DAC inputs are double buffered to allow for simultaneous update of all DAC outputs. The device can be powered from a single +5V supply or from dual +5V and –5V supplies.
Parametrics
DAC7615EB absolute maximum ratings: (1)Low power: 20mW; (2)Unipolar or bipolar operation; (3)Settling time: 10ms to 0.012%; (4)12-bit linearity and monotonicity: –40℃ to +85℃; (5)Double-buffered data inputs; (6)Smal20-lead ssop package.
Features
DAC7615EB features: (1)VDD to VSS: –0.3V to +11V; (2)VDD to GND: –0.3V to +5.5V; (3)VREFL to VSS: –0.3V to (VDD – VSS); (4)VDD to VREFH: –0.3V to (VDD – VSS); (5)VREFH to VREFL: –0.3V to (VDD – VSS); (6)Digital Input Voltage to GND: –0.3V to VDD + 0.3V; (7)Maximum Junction Temperature: +150℃; (8)Operating Temperature Range: –40℃ to +85℃; (9)Storage Temperature Range: –65℃ to +150℃; (10)Lead Temperature (soldering, 10s): +300℃.
Diagrams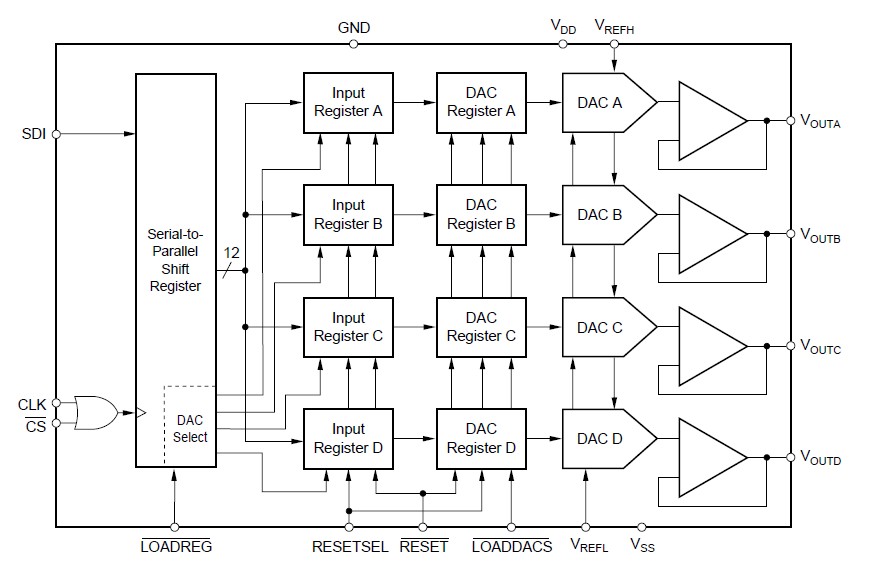 Image
Part No
Mfg
Description
Pricing
(USD)
Quantity

DAC7615EB

Texas Instruments

DAC (D/A Converters) Quad Ser In 12-Bit Voltage Output

Data Sheet



| | |
| --- | --- |
| 0-38: | $8.53 |
| 38-50: | $8.24 |
| 50-100: | $6.19 |
| 100-250: | $6.11 |


DAC7615EB/1K



IC 12-BIT QUAD SERIAL D/A 20SSOP

Data Sheet



DAC7615EBG4

Texas Instruments

DAC (D/A Converters) Quad Ser In 12-Bit Voltage Output

Data Sheet



| | |
| --- | --- |
| 0-38: | $8.53 |
| 38-50: | $8.24 |
| 50-100: | $6.19 |
| 100-250: | $6.11 |


DAC7615EB/1KG4

Texas Instruments

DAC (D/A Converters) Quad Ser In 12-Bit Voltage Output

Data Sheet



| | |
| --- | --- |
| 0-786: | $4.95 |
| 786-1000: | $4.86 |