Product Summary
The CY7C68013A-100AXC is a microcontroller with high speed usb peripheral controller.
Parametrics
CY7C68013A-100AXC absolute maximum ratings: (1)Storage Temperature: –65℃ to +150℃; (2)Ambient Temperature with; (3)Power Supplied (Commercial): 0℃ to +70℃; (4)Ambient Temperature with Power Supplied (Industrial): –40℃ to + 105℃; (5)Supply Voltage to Ground Potential: –0.5V to +4.0V; (6)DC Input Voltage to Any Input Pin: 5.25V; (7)DC Voltage Applied to Outputs; (8)in High Z State: –0.5V to VCC + 0.5V; (9)Power Dissipation: 300 mW; (10)Static Discharge Voltage>2000V.
Features
CY7C68013A-100AXC features: (1)USB 2.0 USB IF High Speed Certified (TID 40460272); (2)Single Chip Integrated USB 2.0 Transceiver, Smart SIE, and Enhanced 8051 Microprocessor; (3)Fit, Form, and Function Compatible with the FX2; (4)Ultra Low Power: ICC No More than 85 mA in any Mode; (5)16 KBytes of On-Chip Code/Data RAM; (6)Four Programmable BULK/INTERRUPT/ISOCHRONOUS Endpoints; (7)Additional Programmable (BULK/INTERRUPT) 64 Byte Endpoint; (8)8-bit or 16-bit External Data Interface; (9)Smart Media Standard ECC Generation.
Diagrams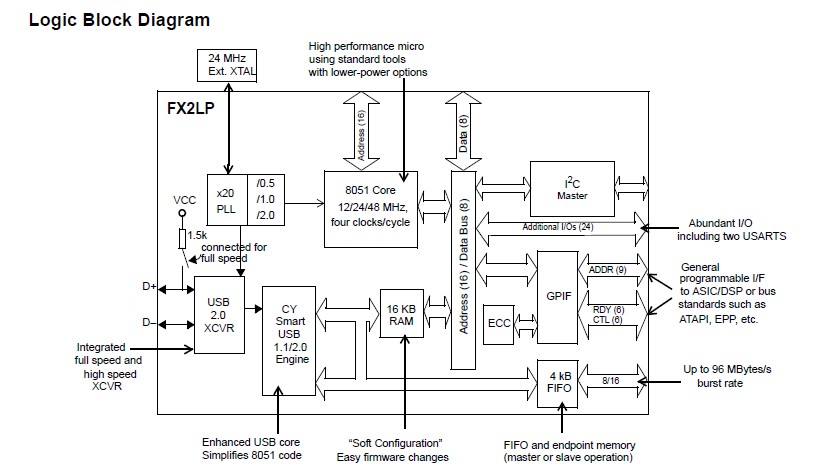 Image
Part No
Mfg
Description
Pricing
(USD)
Quantity

CY7C68013A-100AXC

Cypress Semiconductor

8-bit Microcontrollers (MCU) EZ USB FX2LP LO PWR Hi COM

Data Sheet



| | |
| --- | --- |
| 0-1: | $11.87 |
| 1-25: | $10.27 |
| 25-50: | $10.07 |
| 50-100: | $9.71 |

Image
Part No
Mfg
Description
Pricing
(USD)
Quantity

CY7C006

Other



Data Sheet

Negotiable

CY7C006A

Other



Data Sheet

Negotiable

CY7C006A-15AXC

Cypress Semiconductor

SRAM 5V 16Kx8 COM Dual Port SRAM

Data Sheet

Negotiable

CY7C006A-15AXCT

Cypress Semiconductor

SRAM 5V 16Kx8 COM Dual Port SRAM

Data Sheet

Negotiable

CY7C006A-20AC



IC SRAM 16KX8 DUAL 64LQFP

Data Sheet

Negotiable

CY7C006A-20AXC

Cypress Semiconductor

SRAM 5V 16Kx8 COM Dual Port SRAM

Data Sheet



| | |
| --- | --- |
| 0-1: | $16.80 |
| 1-25: | $13.44 |
| 25-100: | $12.59 |
| 100-250: | $11.76 |