Product Summary
The CS4390-KS is a 24-bit, stereo D/A converter for digital audio. The CS4390-KS is a complete stereo digital-to-analog output system. In addition to the traditional D/A function, the CS4390-KS includes a digital interpolation filter followed by an 128X oversampled delta-sigma modulator. The modulator output of the CS4390-KS controls the reference voltage input to an ultra-linear analog low-pass filter. This architecture of the CS4390-KS allows for infinite adjustment of sample rate between 1 and 50 kHz while maintaining linear phase response simply by changing the master clock frequency.
Parametrics
CS4390-KS absolute maximum ratings: (1)Input Current, Any Pin Except Supplies Iin: ±10 mA; (2)Digital Input Voltage VIND -0.3 (VD)+0.4 V; (3)Ambient Operating Temperature (power applied) TA: -55 125 ℃; (4)Storage Temperature Tstg: -65 150 ℃.
Features
CS4390-KS features: (1)24-Bit Conversion; (2)115 dB Signa-to-Noise-Ratio (EIAJ); (3)Compete Stereo DAC System. 128X Interpoation Fiter. Deta Sigma DAC. Anaog Post Fiter; (4)106 dB Dynamic Range; (5)Low Cock Jitter Sensitivity; (6)Fitered Line-Leve Outputs. Linear Phase Fitering. Zero Phase Error Between Channes; (7)Adjustabe System Samping Rates. incuding 32 kHz, 44.1 kHz & 48 kHz; (8)Digita De-emphasis for 32 kHz, 44.1 kHz, & 48 kHz.
Diagrams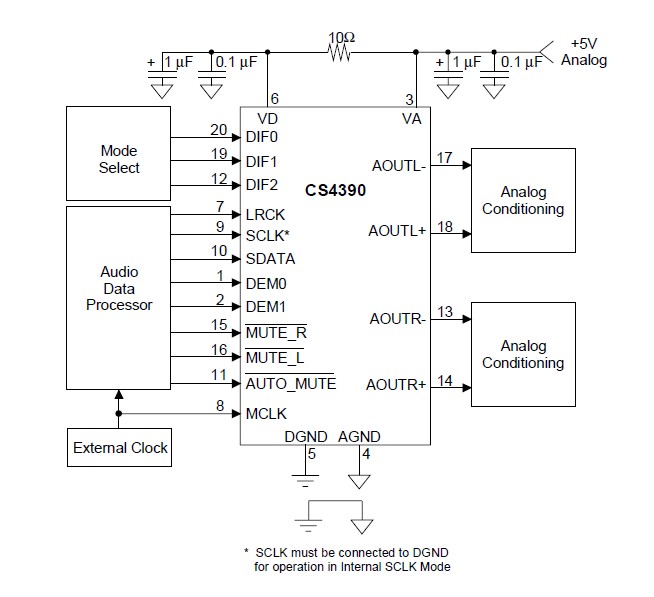 CS43122

Other



Data Sheet

Negotiable

CS43122-KSZ

Cirrus Logic

DAC (D/A Converters) IC 122dB 24-Bit 192kHz DAC

Data Sheet



| | |
| --- | --- |
| 0-59: | $10.79 |
| 59-100: | $10.47 |
| 100-250: | $10.17 |


CS43122-KSZR

Cirrus Logic

DAC (D/A Converters) IC 122dB 24-Bit 192kHz DAC

Data Sheet



CS4330

Other



Data Sheet

Negotiable

CS4330-KS

Cirrus Logic

DAC (D/A Converters) IC 8-Pin Stereo DAC for Digital Audio

Data Sheet

Negotiable

CS4330-KSR

Cirrus Logic

DAC (D/A Converters) IC 8-Pin Stereo DAC for Digital Audio

Data Sheet

Negotiable