Product Summary
The BLV33 is a VHF linear power transistor. The BLV33 NPN silicon planar epitaxial transistor encapsulated in a 1x16" 4 fslead SOT147 capstan package with ceramic cap. All leads are isolated from the stud.
Parametrics
BLV33 absolute maximum ratings: (1)VCESM collector-emitter voltage VBE = 0: 65 V; (2)VCEO collector-emitter voltage open base: 33 V; (3)VEBO emitter-base voltage open collector: 4 V; (4)IC collector current (DC): 12.5 A; (5)IC(AV) average collector current: 12.5 A; (6)ICM peak collector current f > 1 MHz: 20 A; (7)Ptot total power dissipation (DC) Tmb = 25 ℃: 132 W; (8)Prf RF power dissipation f > 1 MHz; Tmb = 25 ℃: 165 W.
Features
BLV33 features: (1)Diffused emitter ballasting resistors for an optimum temperature profile; (2)Gold sandwich metallization ensures excellent reliability.
Diagrams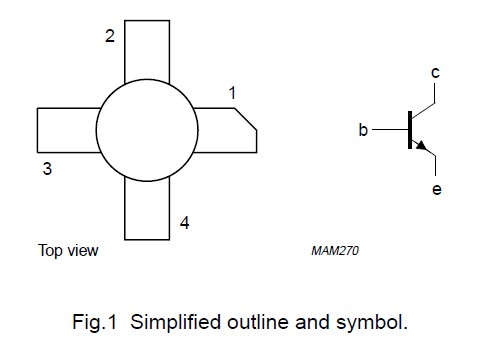 Image
Part No
Mfg
Description
Pricing
(USD)
Quantity

BLV33

Advanced Semiconductor, Inc.

Transistors RF Bipolar Power RF Transistor

Data Sheet



| | |
| --- | --- |
| 0-1: | $70.13 |
| 1-10: | $64.35 |
| 10-25: | $57.75 |
| 25-50: | $51.15 |

Image
Part No
Mfg
Description
Pricing
(USD)
Quantity

BLV30

Other



Data Sheet

Negotiable

BLV31

Advanced Semiconductor, Inc.

Transistors RF Bipolar Power RF Transistor

Data Sheet



| | |
| --- | --- |
| 0-1: | $52.20 |
| 1-10: | $43.50 |
| 10-25: | $39.15 |
| 25-50: | $34.80 |


BLV32F

Advanced Semiconductor, Inc.

Transistors RF Bipolar Power RF Transistor

Data Sheet



| | |
| --- | --- |
| 0-1: | $57.38 |
| 1-10: | $52.65 |
| 10-25: | $47.25 |
| 25-50: | $41.85 |


BLV33

Advanced Semiconductor, Inc.

Transistors RF Bipolar Power RF Transistor

Data Sheet



| | |
| --- | --- |
| 0-1: | $70.13 |
| 1-10: | $64.35 |
| 10-25: | $57.75 |
| 25-50: | $51.15 |


BLV34

Advanced Semiconductor, Inc.

Transistors RF Bipolar Power RF Transistor

Data Sheet



| | |
| --- | --- |
| 0-1: | $52.20 |
| 1-10: | $43.50 |
| 10-25: | $39.15 |
| 25-50: | $34.80 |