Product Summary
The BA3121F-E2 is a ground isolation amplifier, which is developed for use in car audio applications. These ICs efficiently eliminate problems caused by wiring resistance, and remove noise generated by the electrical devices used in automobiles. The capacitance values of the BA3121F-E2 required for the ICs are small to allow compact and reliable set design.
Parametrics
BA3121F-E2 absolute maximum ratings: (1)power supply voltage: 18 V; (2)power dissipation: 450 mW; (3)operating temperature: -30 to +85 ℃; (4)storage temperature: -55 to +125 ℃.
Features
BA3121F-E2 features: (1)Large capacitors not required; (2)High common-mode rejection ratio (57dB typ. at f = 1kHz); (3)Low noise (VNO = 3.5mVrms Typ.); (4)Low distortion (THD = 0.002% Typ.); (5)Two channels.
Diagrams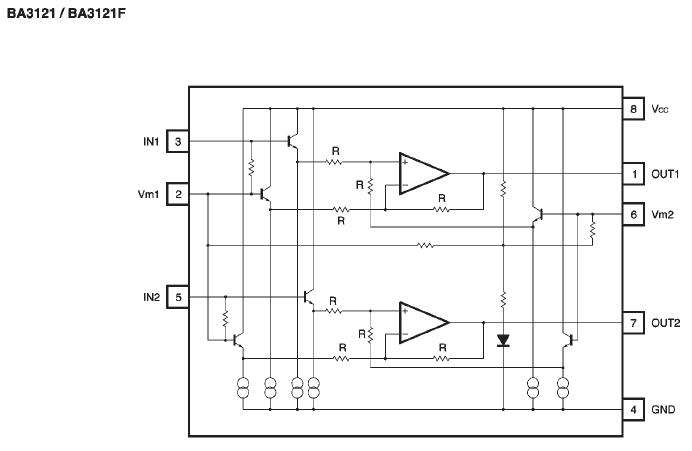 Image
Part No
Mfg
Description
Pricing
(USD)
Quantity

BA3121F-E2

ROHM Semiconductor

Audio Amplifiers AUDIO ISOLATION AMP

Data Sheet



| | |
| --- | --- |
| 0-1: | $1.13 |
| 1-25: | $0.94 |
| 25-100: | $0.76 |
| 100-500: | $0.57 |

Image
Part No
Mfg
Description
Pricing
(USD)
Quantity

BA3118L



IC AMP AUDIO STER AB 18ZIP

Data Sheet



BA3121

ROHM Semiconductor

Audio Amplifiers AMP 2CH 18V

Data Sheet



BA3121F

Other



Data Sheet

Negotiable

BA3121F-E2

ROHM Semiconductor

Audio Amplifiers AUDIO ISOLATION AMP

Data Sheet



| | |
| --- | --- |
| 0-1: | $1.13 |
| 1-25: | $0.94 |
| 25-100: | $0.76 |
| 100-500: | $0.57 |


BA3121N

ROHM Semiconductor

Audio Amplifiers IC AMP ISOLATION 2CH 18V

Data Sheet



| | |
| --- | --- |
| 0-1: | $1.48 |
| 1-25: | $0.85 |
| 25-100: | $0.68 |
| 100-500: | $0.60 |


BA3124F

Other



Data Sheet

Negotiable