Product Summary
The CA3162E is an A/D converter for 3-digit display. The CA3162E I2L monolithic A/D converter provides a 3 digit multiplexed BCD output. It is used with the CA3162E BCD-to-Seven-Segment Decoder/Driver and a minimum of external parts to implement a complete 3-digit display. The CA3162AE is identical to the CA3162E except for an extended operating temperature range. The CA3161E is described in the Display Drivers section of this data book.
Parametrics
CA3162E absolute maximum ratings: (1)DC Supply Voltage: +7V; (2)Input Voltage (Pin 10 or 11 to Ground): ±15V; (3)Temperature Range: 0 to 75℃; (4)Maximum Junction Temperature: 150℃; (5)Maximum Storage Temperature Range: -65℃ to 150℃; (6)Maximum Lead Temperature (Soldering 10s): 300℃.
Features
CA3162E features: (1)Dual Slope A/D Conversion; (2)Multiplexed BCD Display; (3)Ultra Stable Internal Band Gap Voltage Reference; (4)Capable of Reading 99mV Below Ground with Single Supply; (5)Differential Input; (6)Internal Timing - No External Clock Required; (7)Choice of Low Speed (4Hz) or High Speed (96Hz) Conversion Rate; (8)Hold nhibits Conversion but Maintains Delay.
Diagrams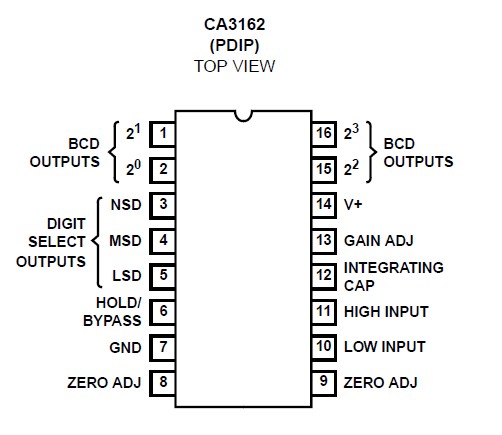 Image
Part No
Mfg
Description
Pricing
(USD)
Quantity

CA3162E

Other



Data Sheet

Negotiable
Image
Part No
Mfg
Description
Pricing
(USD)
Quantity

CA310

Honeywell

Speed Sensors CBL ASSY NYLN WTC 3PIN 10'

Data Sheet

Negotiable

CA3100

Other



Data Sheet

Negotiable

CA3100E10SL-3P



CONN RCPT 3POS WALL MNT W/PINS

Data Sheet



| | |
| --- | --- |
| 0-1: | $21.43 |
| 1-5: | $20.36 |
| 5-10: | $19.29 |
| 10-25: | $18.22 |
| 25-50: | $17.14 |


CA3100E10SL-3P01F80



CONN RCPT 3POS WALL MNT W/PINS

Data Sheet



| | |
| --- | --- |
| 0-1: | $20.30 |
| 1-5: | $19.28 |
| 5-10: | $18.27 |
| 10-25: | $17.25 |
| 25-50: | $16.24 |


CA3100E10SL-3P13A176



CONN RCPT 3POS WALL MNT W/PINS

Data Sheet



| | |
| --- | --- |
| 0-1: | $24.56 |
| 1-5: | $23.33 |
| 5-10: | $22.10 |
| 10-25: | $20.87 |
| 25-50: | $19.65 |


CA3100E10SL-3PB



CONN RCPT 3POS WALL MNT W/PINS

Data Sheet



| | |
| --- | --- |
| 0-1: | $32.04 |
| 1-5: | $30.35 |
| 5-10: | $28.67 |
| 10-25: | $26.98 |
| 25-50: | $23.61 |