Product Summary
The ADS7815U is a complete 16-bit sampling analogto digital (A/D) converter featuring excellent AC performance and a 250kHz throughput rate. The design includes a 16-bit capacitor-based SAR A/D converter with an inherent sample and hold (S/H), a precision reference, and an internal clock.
Parametrics
ADS7815U absolute maximum ratings: (1)Analog Inputs, VIN: ±VS; REF: GND –0.3V to +VS +0.3V; CAP: Indefinite Short to GND; (2)Momentary Short to +VS; (3)+VS: 7V; (4)–VS: –7V; (5)Digital Inputs: GND –0.3V to +VS +0.3V; (6)Maximum Junction Temperature: +165℃; (7)Internal Power Dissipation: 825mW; (8)Lead Temperature (soldering, 10s): +300℃.
Features
ADS7815U features: (1)250kHz sampling rate; (2)Complete with s/h, ref, clock, etc.; (3)96dB min SFDR with 100kHz input; (4)84dB min sinad; (5)±2.5V input range; (6)28-lead soic.
Diagrams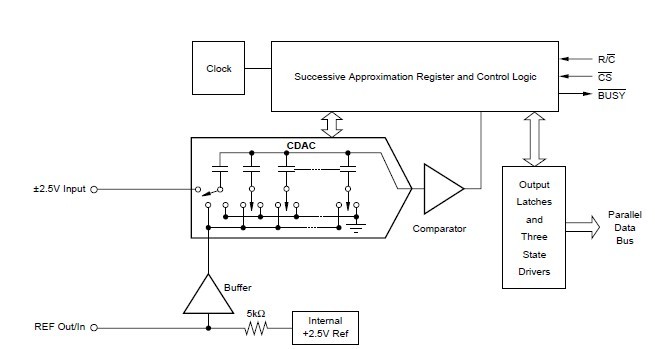 Image
Part No
Mfg
Description
Pricing
(USD)
Quantity

ADS7815U

Texas Instruments

ADC (A/D Converters) 16-Bit 250kHz Sampling CMOS

Data Sheet



| | |
| --- | --- |
| 0-1: | $21.40 |
| 1-10: | $20.13 |
| 10-25: | $18.86 |
| 25-50: | $18.50 |


ADS7815U/1K

Texas Instruments

ADC (A/D Converters) 16-Bit 250kHz Sampling CMOS

Data Sheet



| | |
| --- | --- |
| 0-786: | $14.65 |
| 786-1000: | $14.38 |


ADS7815UE4

Texas Instruments

ADC (A/D Converters) 16-Bit 250kHz Sampling CMOS

Data Sheet



| | |
| --- | --- |
| 0-1: | $21.40 |
| 1-10: | $20.13 |
| 10-25: | $18.86 |
| 25-50: | $18.50 |


ADS7815UG4

Texas Instruments

ADC (A/D Converters) 16-Bit 250kHz Sampling CMOS

Data Sheet



| | |
| --- | --- |
| 0-1: | $21.40 |
| 1-10: | $20.13 |
| 10-25: | $18.86 |
| 25-50: | $18.50 |


ADS7815U/1KE4

Texas Instruments

ADC (A/D Converters) 16-Bit 250kHz Sampling CMOS

Data Sheet



| | |
| --- | --- |
| 0-786: | $14.65 |
| 786-1000: | $14.38 |