Product Summary
The ADS1217IPFBT is a precision, wide dynamic range, deltasigma, Analog-to-Digital (A/D) converter with 24-bit resolution operating from 2.7V to 5.25V supplies. The delta-sigma, A/D converter of ADS1217IPFBT provides up to 24 bits of no missing code performance and effective resolution of 22 bits. The applications of the ADS1217IPFBT include industrial process control, liquid/gas chromatography, blood analysis, smart transmitters.
Parametrics
ADS1217IPFBT absolute maximum ratings: (1)AVDD to AGND: –0.3V to +6V; (2)DVDD to DGND: –0.3V to +6V; (3)Input Current: 100mA, Momentary; (4)Input Current: 10mA, Continuous, AIN: GND –0.5V to AVDD + 0.5V; (5)AVDD to DVDD: –6V to +6V; (6)AGND to DGND: –0.3V to +0.3V; (7)Digital Input Voltage to GND: –0.3V to DVDD + 0.3V; (8)Digital Output Voltage to GND: –0.3V to DVDD + 0.3V; (9)Maximum Junction Temperature: +150℃; (10)Operating Temperature Range: –40℃ to +85℃; (11)Storage Temperature Range: –60℃ to +150℃; (12)Lead Temperature (soldering, 10s): +300℃.
Features
ADS1217IPFBT features: (1)24 bits no missing codes; (2)INL: 0.0012% of FSR (max); (3)full-scale input: ±2VREF; (4)PGA from 1 TO 128; (5)22 bits effective resolution (PGA = 1), 19 bits (PGA = 128); (6)single cycle settling mode; (7)programmable data output rates up to 1kHz; (8)on-chip 1.25V/2.5V reference; (9)on-chip calibration; (10)SPI compatible; (11)power supply: 2.7V to 5.25V.
Diagrams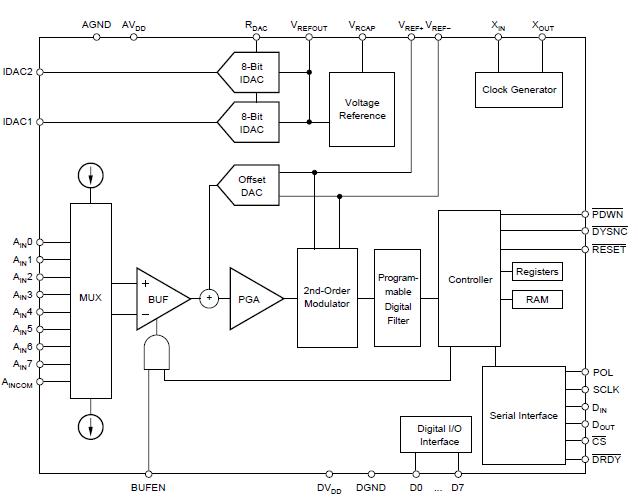 Image
Part No
Mfg
Description
Pricing
(USD)
Quantity

ADS1217IPFBT

Texas Instruments

ADC (A/D Converters) 8-Ch 24-Bit ADC

Data Sheet



| | |
| --- | --- |
| 0-1: | $8.54 |
| 1-10: | $7.78 |
| 10-25: | $7.18 |
| 25-50: | $6.94 |


ADS1217IPFBTG4

Texas Instruments

ADC (A/D Converters) 8-Ch 24-Bit ADC

Data Sheet



| | |
| --- | --- |
| 0-187: | $5.21 |
| 187-250: | $5.15 |
| 250-500: | $5.05 |
| 500-750: | $4.95 |